So you've decided to start a new venture and you're opening a bar or restaurant – congrats! This will be an exciting time for you. Along with the excitement comes planning, questions, and sometimes, stress. When you're looking at what needs to be done for your new business, who needs to be called, and what needs to be ordered, it's easy to get overwhelmed. But you don't have to be.
Amongst your planning and list making, take a few moments to pause and answer each of these questions to ensure you've got some new bar or new restaurant bases covered.
1. What Will the Style of My Bar or Restaurant Be?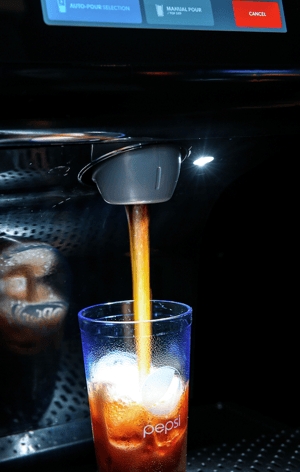 A big part of opening a new bar or restaurant is determining your niche. Take some time to think about who your target market is. Are you a local restaurant? Are you a sports bar? Do you want to target families? College-age individuals? A little bit of everything? Think about what your bar or restaurant would look like on a perfect night. Are there TVs broadcasting sporting events, groups playing trivia, or tables enjoying music and each other's company?
Though it's easier said than done, focus in on what your goal is. Deciding what type of bar or restaurant you will be or what audience you want to appeal to can help steer you in the right direction for the menu, products offered, and more.
2. Where Will I Get My Soft Drinks?
As a bar or restaurant owner, you know how important it is to be able to offer the right beverages to your customers. Don't get stuck thinking about just alcoholic beverages – wine, beers, spirits, etc. Soft drinks are a staple and will likely make up the bread and butter of your available offerings.

You'll also want to work to find a supplier that not only has a wide assortment of soft drinks, but can also extend their products beyond sodas. With healthy options, non-carbonated, and craft soda alternatives on the rise, it's good to look at who can get you the widest variety of drinks and make sure you've got something for every taste and preference.
3. How Will I Stay on Top of Beverage Trends?
There's a whole lot to keep track of when you're running a bar and restaurant. There's the licenses, regulations, supplies, finances… it's not a simple task! Staying up-to-date and in the loop about what new beverages have hit the market, which are most popular, and what consumers in your area are looking for when they visit a bar or restaurant can be difficult.
One great way to stay current is to find an expert beverage distributor. These industry pros will act as a partner who can help recommend products that are performing well and trending, or are on the upside of seasonal trends. This will keep your customers happy and your financial records looking good.
4. Should I Offer Bar Snacks?
Whether your bar or restaurant will offer a full menu, appetizers, or beverages only, you may want to consider having a variety of 'bar snacks' available for purchase to your customers. Of course food isn't a requirement for bars, but it may align with your goals (referred to in question #1) and help you better define your atmosphere. Think of what types of bars or restaurant themes offer peanuts, popcorn, and chips… do any of those match up with yours?
Whether it is a small, snack-size bags of chips, assorted nuts, beef sticks, or candy, having bar snacks to offer is good for business - in more ways than one. Snacks can help increase sales and keep your patrons full of something besides beverages.


Knowing what type of bar or restaurant you're opening, where you're getting your products, what types of items you'll offer, and how you'll keep up with local or national trends and demands are some of the first steps to successfully opening a new establishment. For more new bar and new restaurant opening tips, download our free checklist.
Cheers to your success!