When is the last time you went to a restaurant or convenience store that exceeded all of your expectations? What did you do after it happened? Did you tweet about it, or write a review on Google? Maybe you uploaded a photo of the great cup of coffee or dessert they made for you and tagged them in a social post. The bottom line is that you, as a consumer have more than five ways to communicate with the world about your experiences with a business - right at your fingertips!
With the amount of communication and sharing platforms available, it becomes even more essential to create an experience for any, and all consumers that they remember (in a good way). In fact, a recent survey found that 66 percent of US consumers are willing to spend more money with a company that provides them with excellent customer service. We know just how important it is to keep your consumers coming back and keeping the operations of your convenience store running smoothly. So, we make it our mission to provide excellent customer service to you and your consumers so you can reach those goals. Our partnership with Beaudry Express in Elk River, Minnesota was no exception when it came to customer service and implementing a new bean-to-cup coffee machine. Hear first-hand how owner Josh Lund feels about his experience working with us and our customer service from front to back in the video below.


Putting Consumers First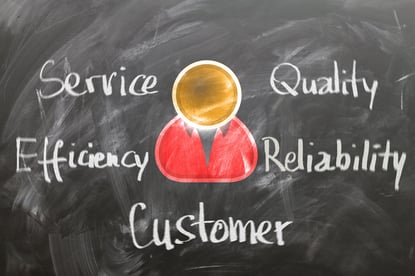 Before making sure the new machine would be mutually beneficial for both parties, we thought about the consumers. Were they looking for a bean-to-cup machine when they came to the store? What kind of coffee were they looking for? What could we provide as a team that would help them get the experience they wanted and needed? After answering all of those questions, we had a clear idea of what expectations the consumers and Beaudry Express had moving forward.
Josh Lund, owner of the 24-hour convenience shop, made the final call to a Bernick's sales rep and discovered that the sales numbers made sense for his business and Bernick's. So, he decided to go through with the new bean-to-cup machine, and within a couple of weeks it was up and ready to start brewing hot, fresh cups of Caribou Coffee.


Partnering with Beaudry Express
We are excited about our partnership with Beaudry Express because it mimics the way we like our coffee - strong and dependable. We look forward to working with Josh and Beaudry Express every day because we have made it a priority to build a solid relationship and good rapport with one another. There are five ways you can build a strong partnership, and we have worked hard to do every single one of them by keeping the consumers in mind, setting clear expectations and agreements, and ensuring that we are making smart decisions to benefit both parties.
When it comes to providing excellent customer service, we don't just stop once the initial task is done. We are there for our customers 100 percent of the time - whether that be making on site visits to address an issue, or having a conversation about how to increase sales. We care about our customers and their consumers and always put them first.