100 years ago, Bernick's started as a one-person operation. Today, our operation looks a bit different. Less horse-drawn transportation, and more than 650 employees make up our diverse and dynamic company. What hasn't changed, however, is the commitment we have to people, both internally to our team members and externally to our customers. I'd like to take this opportunity to highlight three of our Bernick's team members who make our company just a little bit better…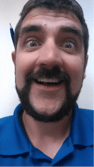 Nate Ruopp – Route Supervisor
Nate has spent a decade dedicated to our company. Nate's job is to support Vending Drivers and customers on location. He enjoys each day and what is presented to him in the form of challenges and opportunities to help others. He strives to be innovative, coming up with new ideas and how to make business better at customer locations. His Vending Drivers count on his consistency and support, and Nate and his team like having fun. One of the best parts of Nate's job is the variety his days bring him, and truly, no two days are alike. His team and customer's needs are his number one priority.
Megan Huls – Merchandising Associate
Megan joined Bernick's in 2011 as a Merchandising Associate. Megan spends her days out on her own, taking ownership of her route, and enjoys the empowerment to make important decisions on a daily basis. She's grateful to be part of an organization committed to encouraging good health and wellness in the community, and incentivizing employees to take the same initiatives with their own health. When she considers the future, Megan predicts Bernick's will only strengthen their bonds and relationships with employees, customers, and the community, upholding a strong professional relationship. Known for superior service, Bernick's also extends this practice internally, granting Megan the time and dedication she needs to continue her military career and fully supports her commitment.
Derek Olson – Area Beer Manager
Derek just celebrated his ten-year anniversary with Bernick's last month. He believes positive, long-term relationships are the key to the company's success. The relationships between the team members and our customers are mutually dependent. Derek possesses a will to win and competitive attitude, which motivates him each and every day. He appreciates the ability to directly affect his customer's successes, and building up new brands within the marketplace. Derek is committed to his career and strives to stay at the top of his game. When it comes to career longevity, Derek credits Bernick's for their culture, family atmosphere, and team-based structure. When you enjoy your co-workers, it makes every aspect of business better.
You Could be the Next Bernick's Employee Spotlight
Like Nate, Megan, and Derek, you too could be part of the exciting culture at Bernick's; a service-driven and ever-expanding company. Bernick's is a great place to work. When Charles and Elizabeth Bernick bought the tiny soda bottling empire a century ago, they started something incredibly special, something we know will continue to grow and impact people everywhere for decades to come. It's your turn to be impacted by Bernick's. Let's chat!