Our beginnings were based on getting soda into the hands of consumers. That's how our story begins. But, we've added many chapters to that story since, and the Bernick's advantage is about our commitment to our customers. It goes much deeper than a soda delivery. Here's what else we offer in terms of service and products.
Quality Portfolio
As the 7th largest independent Pepsi franchise in the U.S., it's obvious that Pepsi and its portfolio of soda brands are very important to our bottom line. Even our brand colors and delivery vehicles are an iconic blue – paying not-so-subtle homage to the soda superbrand. Yet, that's just part of our portfolio. We are so much more than a soda supplier; we connect consumers to the brands they love most covering everything from soda to coffee to water to beer and craft beer to probiotics, sports drinks, and juices, teas, and malt beverages. Just about anything that can be consumed via drinking is something Bernick's can supply to our customers.
We believe our portfolio gives us the greatest insight into consumers' needs and wants. Our brand partners like Miller, New Belgium, Sierra Nevada, Caribou Coffee, Starbucks, Gatorade, Propel, Rockstar, MTN Dew, Klarbrunn, LaCroix, LIFEWTR, Bai, Naked, Pure Leaf, Schell's, Castle Danger, and Indeed represent some pretty heavy hitters when it comes to what beverages consumers demand. It's always enjoyable for our team to answer, yes, we carry that when a customer asks a question – we're able to answer that way often!
Professional Service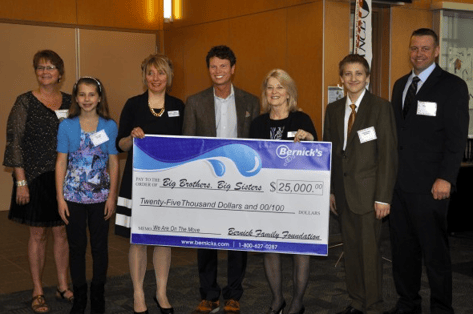 Along with providing great products, what really sets Bernick's apart from other supplier partners is our dedication to customer service and experience. When we consider our customers, we don't regard our relationship as just another stop on a delivery route. Our account services team members offer support and accountability wherever food and beverage is a primary concern. At Bernick's, we believe there's a particular service model for nearly every bar and restaurant, c-store, food service, school, and recreation-based business that exists in our community.
The dynamic and ever-changing consumer landscape requires our customers to remain responsive and nimble in the marketplace, and our decades of experience and service offers alignment with our customers' unique challenges, goals, and opportunities to continue to offer the best products to consumers. We assist with annual planning, marketing and advertising support, retailer training, launch plans, event support, and so much more.
Community Involvement
We believe healthy communities are integral to creating healthy companies and we take pride in giving back to the communities we serve. When our customers' businesses and services succeed, that helps create a stronger economy and community around it. There's so much more to the food and beverage industry than consumption. With Bernick's, there's consumer awareness, environmental appreciation, and a commitment to responsible use. Our service focus extends beyond stocking shelves and coolers with the brands our customers wish to carry; it's about the bigger picture. In our case, that bigger picture is of the people, places, and organizations that define our community and gives us a sense of duty and honor in helping celebrate and support in any way we can.
Bernick's gives back a percentage of our income where we do business. It's important to us to for many reasons. Our ongoing commitments with local nonprofits like the YMCA, Boys & Girls Club, and United Way also enables us to leverage the partnerships with our customers. If there is a need for a community event, we're able to partner with suppliers and customers to support those charitable events and help raise awareness where additional support could be used.