Bernick's partners with nearly every industry imaginable in communities we serve. We have a vast portfolio of services and food and beverage offerings that appeal to many businesses and service models. One category we're proud to serve but perhaps are a little more quiet about is senior living and related healthcare. What I mean by quiet is outside our company, sometimes the perception is that we distribute to bars and restaurants and that might be our only model of service. We partner with a number of senior living communities locally and together we're better because of it.
Local Support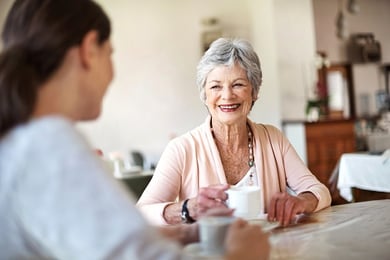 More than anything, having a local distributor means better access and better service regardless of industry. The same is true for senior living. Your community is home to many people - residents, patients, guests, families, employees, and staff. Those people rely on your role or team to meet their needs daily when it comes to food and beverage. Those amenities are necessities and often one of the biggest draws or features your campus or community is regarded by. Aside from proximity, skilled nursing and health services, and affordability, the dining services program is one of the top considerations for residents and families.
Knowing your distributor partner is a community-based brand or company will help ensure you offer a top-notch dining program. Bernick's is fully invested in our service and level of dedication to the companies that comprise our communities. It's an important value of ours - community involvement. Bernick's supports the community by providing time, talent and resources. In turn, our community supports us, both as customers and as consumers.


Beverage Solutions in Senior Living
Our offerings are vast and customizable. There isn't a singular option that senior living entities are presented with or a take it or leave it scenario. Our first step is asking the food service manager or director about the needs of the community in order to gauge the operation itself. How's your capacity - how many people are you serving daily and in how many different ways? Is there a particular program you're interested in - like commercial coffee machines or juice dispensers? Are you interested in featuring specialty items but aren't sure what beverage items older adults would enjoy or appreciate? Do you feature a happy hour or social hour of entertaining for residents?
At Bernick's we can provide beverages for every mealtime of the day and all the extras in between. We've got the best product portfolio and the highest level of innovative equipment. Our service team is second to none should any of your equipment need service or attention. We understand the need for efficiency, response time, and satisfaction of service. Our product offerings include:
Juice dispensers - featuring Refrasia-brand juices, lemonades, and teas
Hot beverage programs - commercial coffee machines, coffee beans, creamers, flavorings, and add-ons, hot tea equipment and bags
Soda - including 7.5oz. size "minis" in major pop brands, fountain machines, and ready-to-drink bottles
Innovative beverages - cold brew coffee, kombucha, protein drinks, sparkling water
Water - available in five-gallon jugs, and grab-and-go's
Beer and mixers - major domestic brands, community-based breweries, ciders, hard seltzers and malt beverages, Bloody Mary mix, cocktail mixes

We're committed to serving our communities and the people who live and work within them. That dedication extends to the senior living industry. When you have beverage needs count on Bernick's to offer the best service, solutions, products, and local support.