Convenience. Variety. Accessibility. These are just a few of the characteristics a micro market has taken on in the past few years as this model of vending continues to evolve. If you've looked into the possibility of adding a micro market to your office or location but wondered how to budget for a relatively new concept, this blog should help with your consideration.
I'll give you a hint: it won't cost you or your company a thing.
What a Micro Market Means for Your Business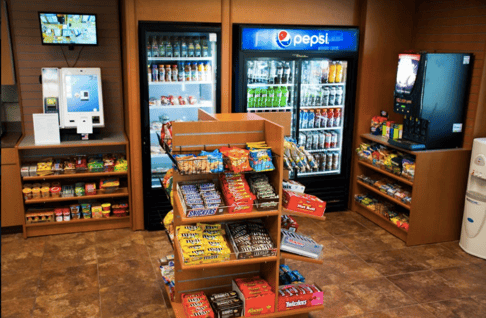 Food and beverage are basic human needs. That's not earth-shattering to anyone and the necessity of eating and drinking during a typical workday is just that: a necessity.
Imagine giving your employees convenient options of yogurt, fresh fruit, and granola in the mornings to fresh salads and sandwiches during the noon hour, and ready-to-drink bottles of soda, energy drinks, or coffee-based drinks. Or a reliable source of caffeine and energy, with specialty hot drinks like lattes or cappuccinos. Micro markets literally have something to offer everyone.
A micro market is a freestyle-type convenience store setup offering a variety of food and beverage items to purchase. Encouraging people to help themselves to the items they want, at any time of the day. Micro markets are unstaffed, operating with a point of sale, which accepts cash, cards, or employee ID for purchases.
Micro Market Costs VS. Vending Machine Costs
Perhaps your office has a traditional vending machine with a few snack and drink options, or no options at all. Your traditional vending machine is not only lacking a variety of options that suit all employees, it may also be costly to your company's budget. Have you assessed the costs of your vending machine recently? Have you thought about the revolution a micro market could have for your employees or staff?
In a recent article by Cost Owl, How Much Does A Vending Machine Service Cost? The many costs associated with traditional vending machines are revealed. Full-service vending machines are the most popular option, both owned and operated by the vendor. The vendor maintains, restocks, and collects all profits from the machine. The vendor generally has control over which products the vending machine is stocked with, which may be products your employees don't want. Some vendors have a requirement of companies to have between 25-75 employees in order to obtain the vending machine cost-free. Companies who do not meet these requirements are left with the options to lease or buy their own vending machines.
Leasing a vending machine can range anywhere from $50 to $150 per month, based on your company's credit score. The dealer may also require a security deposit of several hundred dollars. If routine maintenance of the machine is not included in the contract, you may incur additional costs. If you opt to have complete control over the vending machine, the purchase price could range from $1,000-$6,000. With these options you can take advantage of filling the machine with the products you choose, but be prepared to use any profit from the machine to simply cover the costs of maintaining and restocking it.
Along with the costs of buying/leasing a vending machine, there are also administrative tasks your employees are required to complete to make sure the machine is functioning and stocked, taking time out of their workday. With a micro market, there are no costs to organizations for the installation or the ongoing management of keeping it stocked and running smoothly. Employees are treated as customers paying for each transaction on their own. Businesses that feature micro markets don't spend any money on traditional setups or filling it with food and beverages.
Installing a Micro Market
Within any business organization comes the responsibility of keeping employees engaged and satisfied while abiding by the B-word: budget. Affording a micro market won't require any additional funding or consideration in your fiscal or operational budgets. The installation of a micro market requires only the basics from your organization:
Space within your office - think kitchen-type areas or employee break rooms with high visibility for access
Dedicated electrical outlets - standard electricity with double-socket for machine plug-ins
Wireless access - a dedicated internet supply to power point-of-sale transactions
Water line - only needed if you wish to install coffee machines
Why Micro Markets Make the Most Sense
In any type of professional scenario, managing time for eating and staying hydrated is key to employee success and overall output. Productivity, socialization, and unity are linked to providing nourishing snacks and beverage options and a place where employees can socialize over meals and snack breaks. Providing your team with onsite options, all day long improves company morale and happiness. It also gives your employees the convenience of not having to leave the physical premises to grab a bite to eat or meet with a coworker or client for a cup of coffee. Offering employees an easy, customizable, onsite source for those breaks and food and drink items could be an absolute game-changer for your business.
Where will your company make space in your office and budget for a micro market in 2020? Simply commit to making a difference for your employees and add it as an action item. That's all that's required - that's a fact. With the right variety of food and beverage items, you'll meet the needs of your organization with a micro market.