The ice is melting. Hopefully, it'll stay that way. We've made it through another cold winter season; now it's time to transition to warmer weather. And with temperatures on the upswing, the question arises, "'Tis the season … to not drink coffee anymore?" Not quite. Coffee is always in season!
WHAT RISING TEMPS MEAN FOR COFFEE DRINKERS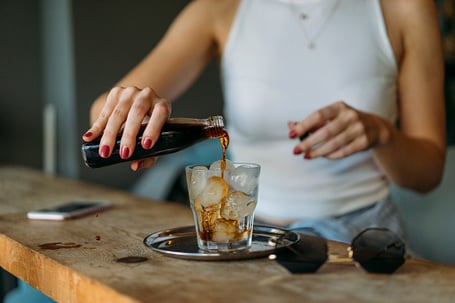 Coffee is the beverage of choice for people; there's no question about it.
And the statistics out there back this up. Statista states that 25.84 million 60-kilogram bags were consumed in the United States from 2017 to 2018 - compared to 23.81 million 60-kilogram bags from 2013 to 2014. There are a lot of coffee drinkers - all craving the delicious taste and caffeine effects of the brew. And with the seasonal changes happening, people are looking for different ways to enjoy their coffee - not just warm.
Cold coffee options are on the rise. According to Statista, 2017 cold brew coffee sales reached $38.1 million - a 370 percent increase from the $8.1 million in sales in 2015. This movement for a cold brew has finally clicked. Quality coffee has gone mass market; it's readily available in both restaurants and breweries. These coffee alternatives can even be found in most convenience stores. So, with the increase in demand, maybe it's time we all embrace cold coffee as we approach the nicest days of the year.
EMBRACING COLD COFFEE FOR WARMER DAYS
Having your morning brew of coffee with ice is becoming more and more popular among consumers - and businesses are paying attention. A report by Mintel Global New Products Database (GNPD) says iced coffee accounted for one in five new global coffee launches in 2017, compared to 16 percent in 2016. In 2017, more than half of the new ready-to-drink (RTD) coffee launches in the United States were cold brew - reaching around $38 million in sales. The growth was at a whopping 137 percent. There's no question about it; people like their coffee with ice.
Cold alternatives for spring and summer coffee are in high demand. Whether you're looking to make it at home or try one of Starbuck's new spring season brews, the options seem endless. And that's the fun part; you get to explore a whole new world of coffee during the warmer seasons. So, where do you begin?
Coffee Brewed Over Ice
Iced coffee is a broad term. Believe it or not, there are actually multiple ways to make iced coffee. Two, in particular, are general methods - both using hot water.
The first is making coffee straight over ice, often with a pour-over cone or Aeropress. The direct impact of hot and cold is sure an impressive sight in itself if it's your first time. This method of chilling the coffee immediately allows all of the natural aromas to be released from the hot water but also remain contained in your cup or glass. By doing this, you are maintaining a good flavor - often providing a bright and acidic taste.
The second general process of making iced coffee is through cooling a hot brew, letting it cool for hours. After the temperature of your coffee has lowered, you then store it in your refrigerator. This method is a little less desirable to most since the natural aromas have a sufficient amount of time to dissipate. Essentially, it's stale coffee. So if you're a coffee snob (and no judgment here), then instant over-iced coffee is the way to go.
Making Cold Brew
A question you might be asking is if there's a difference between iced coffee and a cold brew. In fact, there is. The end result between the two is relatively the same when it comes to their temperature. However, the process is quite different. When you're making a cold brew, you actually use cold water, to begin with; this causes a slower release of the flavors you're looking for - often taking 12+ hours to complete the process.
Cold brewing doesn't pull out as much acidity and caffeine, compared to over-iced coffee made with hot water. Often, this is considered as a positive alternative for individuals concerned with their caffeine intake and the level of acidity they're consuming.
The process is typically done with the coffee grounds immersed in a french press or another coffee machine. However, it can also be made using the "slow-drip method," where cold water drips slowly over a bed of coffee.
BERNICK'S COFFEE
Our team at Bernick's is here for you and your business needs, whether that's to provide seasonal coffee options for your customers or employees. We believe coffee should be enjoyed year-round. Bernick's coffee is offered at all temperatures and variations for your drinking pleasure: cold, hot, RTD, premium, and natural caffeine.