When you're looking at offering food and beverage options on site, the vast world of vending can be overwhelming. This notion applies even if you currently have some form of vending and are simply looking to upgrade (or overhaul) your offerings. Where do you begin? How do you know what products or brands to stock? What kind of service best fits your needs? In the infographic below, I'll cover five of the most important vending services to consider.
Five Vending Services to Look For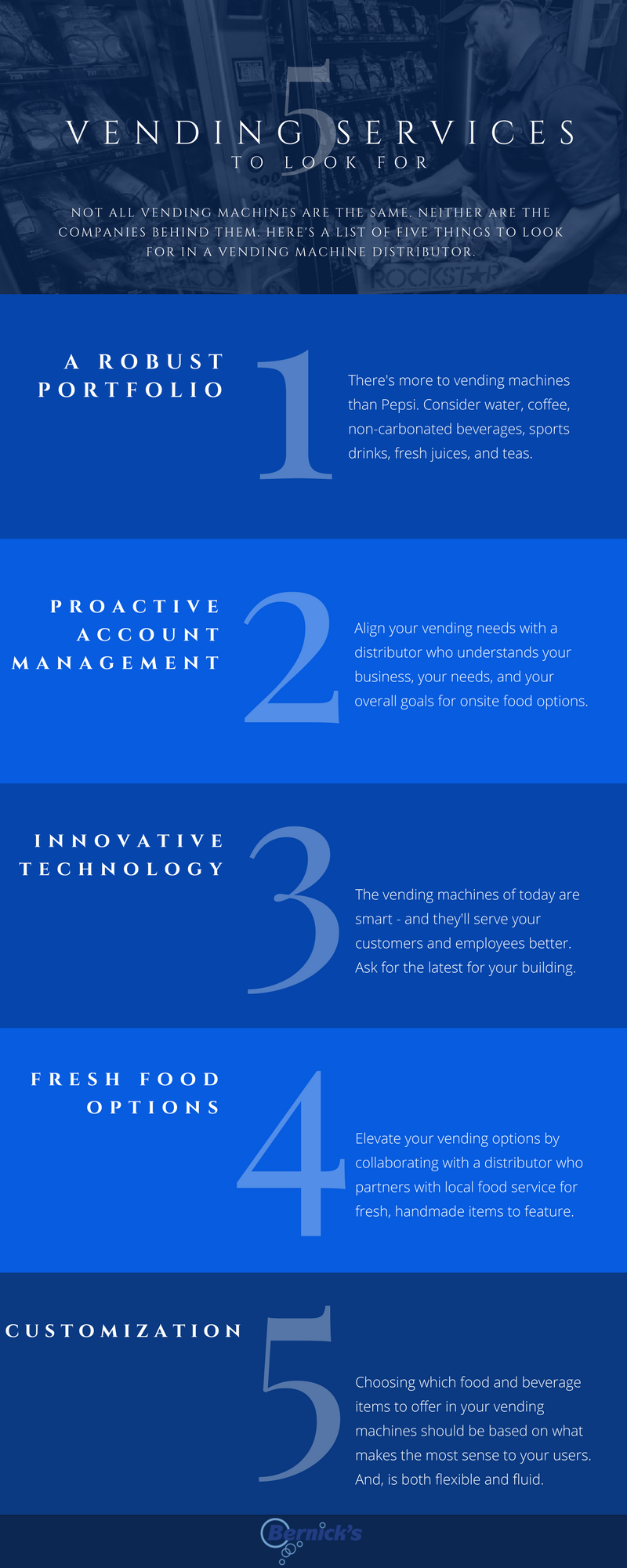 1. Wide Product Offerings
From salty snacks to savory, breakfast to full lunch options, to every single kind of beverage consumers want, partnering with a vending distributor with an expansive portfolio is necessary to optimize your own machines. A lot of distribution companies stick to a narrow selection of beverages in particular, and might only offer a traditional lineup of soda and water. Simply ask your proposed vending company what kind of beverages they vend, and what your options are. The sky should be the limit.
2. Attentive Service
With the national average of each vending transaction being less than two dollars, it might seem that vending machines are a low priority when it comes to attention and inventory. That couldn't be further from the truth. Any line of business you and your company are trying to support is important regardless of size or scope. If your potential vending service company is a little too laissez-faire about the urgency of their attention or responsiveness, it's not going to serve your building very well.
3. Technology
In today's connected world, it often seems like cash is no longer king. Maintaining a vending machine with dated technology will only serve to frustrate users. Enabling people to pay for vending selections with credit or debit cards ensures an easy, contemporary transaction each and every time they visit your machines. On the flip side, today's vending technology systems have also become more intuitive alerting distributors when items are low or require service. This eliminates the need for an onsite representative to be tasked with vending machine management - maybe even removing that from your plate.
4. Access to Real, Healthy Food Items
In 1937 vending machines started dispensing bottled drinks including Pepsi thereafter. For many years, soda and basic packaged snacks epitomized what a vending machine could purge to anyone looking for anything to eat or drink. The vending machines of today, however, are nowhere near as limited as they were for a handful of decades. Today it's not uncommon to find a great vending distributor who is looking to fortify the vending experience by featuring handcrafted food items that appeal to modern taste and preference.
5. Flexibility
Albert Einstein once said, "The measure of intelligence is the ability to change." Now that might be getting too philosophical in a blog about vending machines, but the sentiment remains. A vending machine isn't a set-it-and-forget-it entity. What's popular and in demand this month or season might not maintain its popularity down the road. Rightfully so; the food and beverage industry moves fast. Consider the importance of partnering with a vending service expert who is both nimble and a little proactive.