Schult Homes is dedicated to opening doors to a better life through home ownership. The first Schult manufacturing facility opened its doors in 1934 and expanded into Redwood Falls, MN in 1973, with the home building facility opening in 1974. In 2004, Schult became part of Clayton Home Building Group, which is part of Berkshire Hathaway.
As Schult has grown, one thing has stayed the same: its dedication to team members. "When you've been around as long as we have, the story is written on the walls. Through every decade and every innovation, our people tie our history to our future," shared Cassandra Walker, a recruiter for Schult Homes. "The lessons we've all learned together, some the hard way, guide us forward. And just like yesterday and all the days before that, at Schult Redwood Falls, quality isn't something we strive for — it's all we know. That will never change."
Micro Market, Massive Impact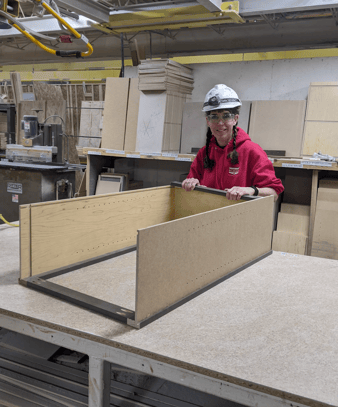 The Schult Homes Redwood Falls facility employs more than 230 team members, with 93% of them on-site full-time in Redwood Falls. Providing a world-class team member experience is one of their core pillars for how well they treat their team.
And Bernick's gets to be part of that. The availability of the Open Market vending style (known as our Micro Market offering) allows the Schult team to have a range of options, including healthy choices for breaks and meal times. This allows team members to get what they need without leaving the facility and taking time away from their rest periods.
"We've been using Bernick's vending for over 30 years," said Corey Theis, senior sales manager. "We originally chose Bernick's due to issues with another vendor and their service of the machines, and we stay with Bernick's because of their innovations in vending and ongoing quality service. Bernick's supplies our facility with a micro market vending system and they also supply us with our Coffee and Water/Ice machines."