Restaurants, bars, and other eating establishments are tasked with staying current with consumer preferences and market trends. It can be overwhelming to determine how to offer something for everyone … or if it's even a mission you want to take on. If you and your back of the house team have struggled with how to make your menu appeal to those patrons seeking healthier options, you're in good company. Bernick's works closely with our partners in the food service industry, and we hear that nearly across the board. So, our team took the initiative to create this infographic on how to add healthy options to your menu without completely reinventing the wheel, no matter your restaurant concept or offerings.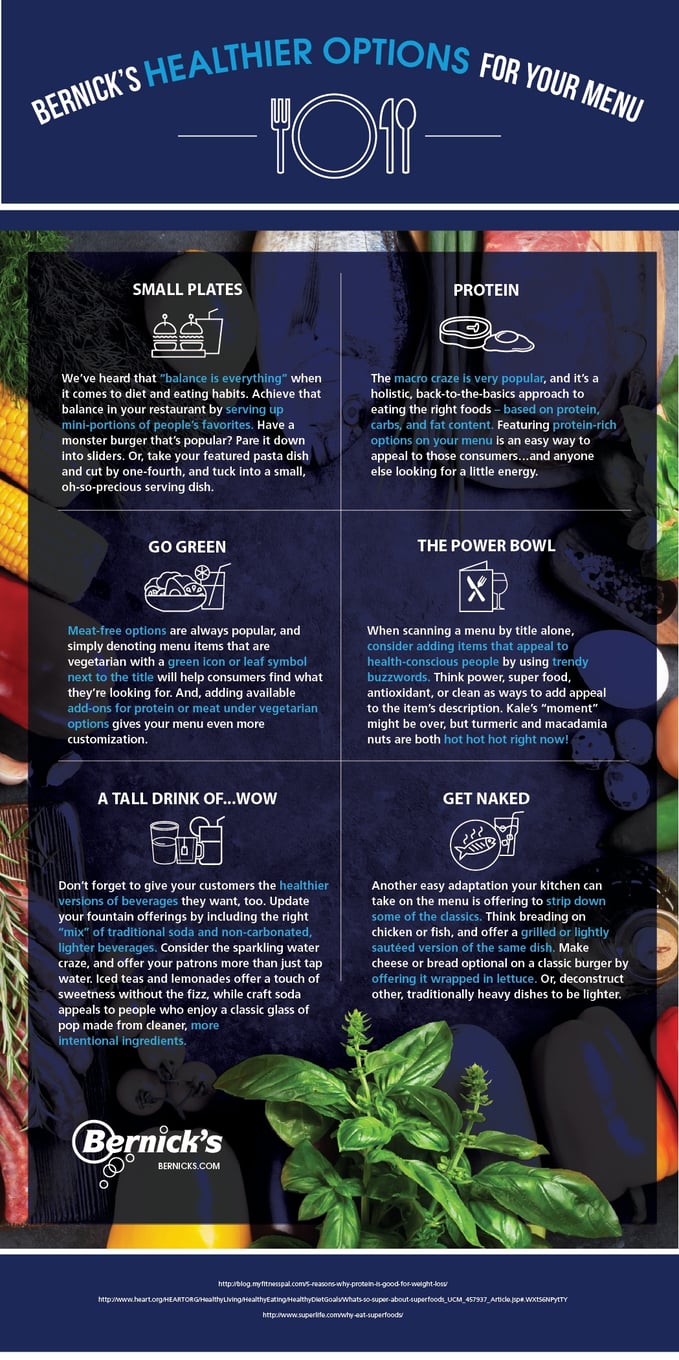 Downsize
Consumers love variety. Your menu probably contains a handful of options patrons agonize over selecting for their entrée or main course. Help them narrow it down by offering small plates of their favorites – that way, they can mix and match, and share with the table to broaden their dining experience.
Show Me the Meat
Highlighting your protein-rich options will help your customers narrow down the choices they want to make in the name of breakfast, lunch, or dinner. And, protein lives in sneaky places too, like Greek yogurt, eggs, hummus, certain grains, beans, peas, spinach, and other leafy greens. Look at your menu with a different lens, and pull out the lesser known sources of protein to feature alongside the usual suspects.
Go Green
Not everyone is looking for a delicious cut of well-prepared meat – the other side of the spectrum is going to be looking for veggie-friendly options. Stocking up your walk-in cooler with a variety of fresh greens and appealing to the green seekers with menu options that are meat-free is as easy as adding a black bean burger to your lineup.
Bowl 'Em Over
The all-in-one approach to healthy eating is an easy concept to adopt for any time of day. Layering healthy ingredients in a single bowl, intentionally adding in "power" or "superfoods" to play off current trends, and giving the dish a way to stand on its own will make your customers drool – and feel good about their meal.
Healthy Hydration
Now more than ever, consumers are making a conscious decision each time they take a sip – whether soda, water, or even beer. Everything matters to today's drinkers – origin stories, brand philosophies, ingredients, and taste. If your menu boasts healthy options for food, bolster it with additional healthy choices for beverages so consumers have access to an all-around healthy meal.
Clean it Up
Hold the … breading. Many people love certain foods for more than the taste. Eating is about celebrating and enjoying; they call it comfort food for a reason. Herein lies the conflict a lot of your diners might experience – wanting to enjoy a classic, nostalgic dish while wrestling with the guilt of ordering such an indulgence. Appeal to both of those feelings with newer, innovative takes on the classics.