Sodas are definitely considered an indulgent treat nowadays. There's just something nostalgic about opening up and enjoying a nice cold can of Pepsi. The pop of the tab, followed by the comforting, fizzy sound of the bubbles, is the perfect primer for a delicious, refreshing soda on a sun-filled day.
Your customers don't want to completely opt-out of sweet, fizzy drinks, but might also be looking for some healthy alternatives to soda.
Keep reading as we lay out five healthy soda alternatives for customers looking to satisfy their desire for something sweet and bubbly while fitting into the better-for-you category.
The Five Best Healthy Alternatives to Soda:
1. bubly sparkling water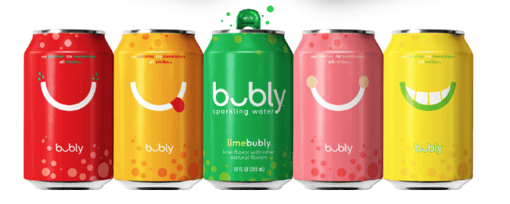 In 2020, bubly saw an increase in raw sales of 87.4% and an increase in market share of 3.44%.
Flavored sparkling waters are all the rage these days. But they're not all created equal. For a flavored sparkling water that tastes as delicious as it is healthy, bubly leads the pack. Since it's essentially just water, a can of bubly is by far the healthiest option on the list. But that doesn't mean it's boring or flavorless.
Coming in at 0 calories, 0 carbs, and 0 sodium with no artificial sweeteners, bubly still manages to bring the flavor with all-natural ingredients. They have an enormous line of options including cherry, blackberry, mango, grapefruit, and more. There's a bubly flavor out there for every palate.
2. BUBBL'R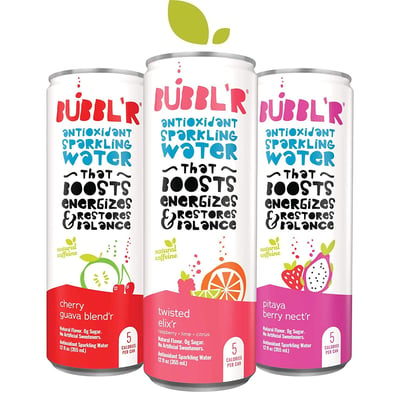 BUBBL'R is an antioxidant sparkling water that features natural flavors, colors, and caffeine with absolutely no artificial sweeteners.
Another healthy option, which comes with an added kick of energy, is BUBBL'R sparkling water. These naturally enhanced beverages come in a unique range of flavors that pull from exotic and traditional fruit pairings.
These carbonated drinks come jam-packed with vitamin A and B with no added sugar or artificial sweeteners. Their natural caffeine is derived from guarana seed extract — giving you the boost you need without the guilt. Oh, and for those with special diets, BUBBL'R sparkling waters are gluten-free, soy-free, and vegan.
3. Propel Electrolyte Water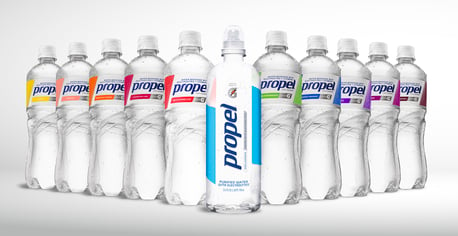 Brought to you by the makers of Gatorade, Propel is a water-based electrolyte drink providing next-level hydration.
Perfect for those who live an active lifestyle, Propel Electrolyte Water is the beverage designed to support proper hydration. It's the only water among national enhanced water brands with enough electrolytes to replace what we lose in sweat. In other words, it's the go-to drink for consumers seeking a beverage that works as hard as they do.
The original zero-calorie Propel comes in a variety of eight flavors — all of which include servings of vitamin B and antioxidant vitamins C and E to help metabolize energy and support an active lifestyle. New Propel Vitamin Boost also offers 100% of the daily recommended value of vitamins B3, B5, B6, C, and E with only 10 calories per bottle. The best part? Propel contains no artificial sweeteners, colors, or flavors.
4. Pure Leaf Iced Tea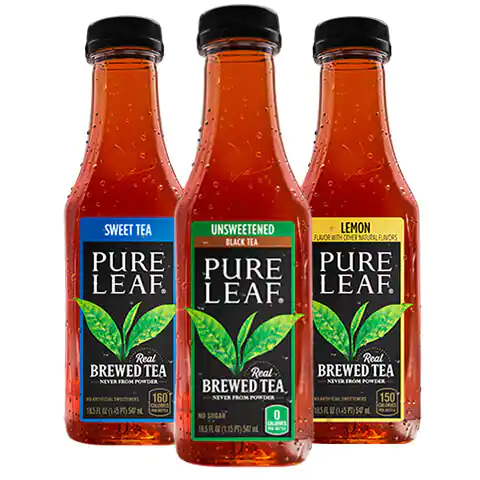 Pure Leaf's iced tea masters settle for nothing less than the best.
Brewed with the finest ingredients, delicious Pure Leaf Iced Tea is a tasty, natural alternative to soda. Pure Leaf's tea masters are the definition of 'dedicated' when it comes to crafting some of the best teas on the market.
Their passion for realness extends from their love of tea leaves. They only use the highest quality, ethically-sourced leaves from Rainforest Alliance Certified tea estates in India, Kenya, Indonesia, and Sri Lanka to keep every bottle authentic. Likewise, each batch is brewed with fresh-picked leaves and zero artificial flavors, colors, powders, or concentrates.
5. Kevita Kombucha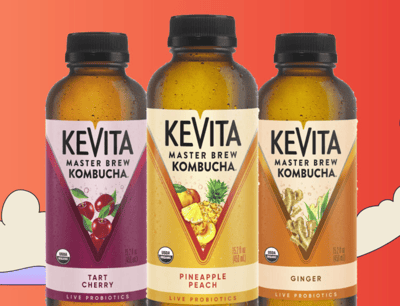 Kevita Kombucha is Certified Organic, Non-GMO, and Kosher.
If you're feeling adventurous and want to try something different, you might consider stocking Kevita Kombucha. Kombucha is a lightly fermented tea drink, often with added flavors or juices. The fermentation provides that familiar fizz you get from sodas, as well as a slightly sweet and sour taste.
The nutrition facts of Kevita Kombucha vary from flavor to flavor, but most bottles have around 35 calories with some as low as 10 and none higher than 60. The sodium content tops out at 40 mg and the carbohydrates range from 0-16 per serving.
Scientists are still studying the health benefits of kombucha, and there isn't a ton of rigorous data out there yet. But so far, the results are promising. The Kevita line of bottled kombuchas includes traditional flavors like Ginger and Grapefruit, as well as more surprising combos like Blueberry Basil and Dragonfruit Lemongrass.
Sell to the widest audience by partnering with Bernick's.
The team at Bernick's has decades of experience helping businesses bring the best beverage options to their guests. Better-for-you drinks are definitely trending, and you want to stay ahead of that trend. But you don't have to sacrifice flavor on the altar of healthy living. If you want to give your soda-loving customers healthy alternatives to Pepsi that won't violate their diets, download our Beverage E-book now and check out all the possibilities.