No two convenience stores are alike, just as no two consumers are the same. Distribution plays a big role in making sure each location and every consumer has the products they want, with the specific customization they need. Not every delivery pallet or shipment is alike, and working with individual convenience stores to determine the best portfolio and delivery schedule is part of what makes Bernick's different.
Here's what a couple of our convenience store customers had to say about our partnership...
Beaudry Express of Elk River, MN – Josh Lund
For 12 years, Beaudry Express in Elk River has seen a lot of good for a convenience store – namely lots of loyal consumers who drive high volume of sales. In fact, Beaudry's in-store business - like its coffee and beverage sales - performs pretty well with 60 percent of overall revenue coming from inside sales. So what does Beaudry Express need from Bernick's to be even more successful? It needed a response to the fresh coffee innovations the competitors were pouring. Wanting to stay up on competition as well as differentiate themselves from other c-stores, Beaudry Express took a chance on a new hot beverage solution Bernick's just began implementing.

"The Bernick's process is an easy one. It took us less than one month to get our new machine – the bean-to-cup coffee machine – established in our store for our consumers. Our consumers love not having an extra stop along their day, 24 hours a day accommodating every hour and every schedule different people keep."
We created a video of Josh's reaction and testimony of Bernick's products and service in a blog series featured as A Bean-to-Cup Quick Stop for Your Coffee Fix and A Partnership as Strong as Your Coffee. Josh says Beaudry Express has always had great luck with our level of customer service. "If we need something, they can be on site really quick. Sometimes, it's less than an hour depending on the day's schedule. The equipment Bernick's provides our location is top-notch. It's primed to run and operate great."
"I'd say my favorite thing about our relationship with Bernick's is the rapport we've built over the past 12 years. Our sales rep and our driver and delivery guys … they are all great and in-tune with our store's needs. We go back and forth on what we need to do to promote our sales and specials, how to increase in-store sales throughout the year, and even where to place products and displays in order to make our employee's jobs easier."
West Cenex of Rice Lake, WI – Sean Rooney
Lakeland Cooperative's West Cenex convenience store in Rice Lake, WI serves a wide range of purposes for its varied consumers: college students, farm and agriculture, workers, and shoppers. For 17 years, Bernick's has helped West Cenex provide beverage options for those consumers who count on their c-store for more than fuel.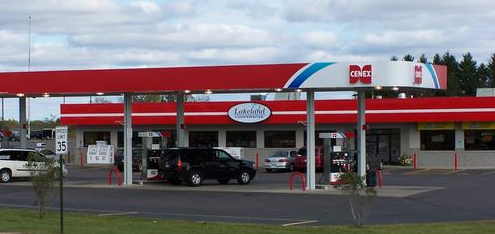 "At the end of the day, it's less about your portfolio or what you sell. Your word and your follow-through are what's important." Sean said of the relationship he has with Bernick's, "I expect the people who say they're going to take care of it, to actually take care of it. It's accountability and reliability. I need both in order to be successful in serving my customers."
Sean sums up convenience stores as soda distribution. A bottle of Pepsi is just that – a bottle of Pepsi. It looks the same, it tastes the same, and it comes from the same place. Yet, there can be such a difference in how that bottle of Pepsi gets into consumer hands. And, that difference is in the service of the distributor and relationship that comes between consumers, convenience stores, and distributors.
And that is about more than a bottle of Pepsi.