Most of the time, business decisions come down to the question, how much is that going to cost me? With micro markets, you can be assured that price won't have to be a consideration in your decision-making process. When you're a micro market partner with Bernick's, we take care of everything without any cost to you.
What is a Micro Market, Exactly?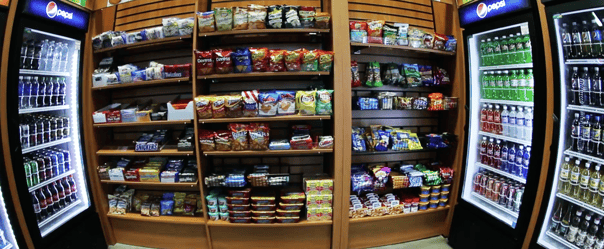 We introduced the topic of micro markets a few years ago. In essence, micro markets replace traditional vending options with expanded, open access markets similar in layout and design to shelving and coolers found in convenience-type stores. The traditional, glass front vending machines debuted in the early 1970's. Technology and innovation were bound to catch up and they did with the recent premiere of micro markets.
National vending machine organizations like Vending Market Watch and the National Automatic Merchandising Association both feature micro markets as a prominent subpage of their websites, so the technology is here to stay, and rapidly gaining popularity. Although micro markets can offer traditional vending fare to your employees, clients, or guests have always enjoyed such as soft drinks, chips, and candies, they may not be right for everyone. What is really great is what else you can offer your people with the addition of a micro market. There's an expanded product selection that includes over 400 items. Talk about choices! Speaking of choices, our Better For You choices include seasonal fresh fruit, vegetables, salads, and sandwiches.
Demand is High, Your Investment is Not
Demand for vending grew in 2014 and is a highly served and demanded niche, and adding a micro market to your business can heartily meet that demand. Your investment to establish a micro market on-site is zero. There is no leasing, no purchasing. When you work with Bernick's, all we need is three pretty standard, easy to come by components. Space. Electricity. A dedicated Internet line. That's it. You don't pay for a single thing from Bernick's – no installation, no inventory, no maintenance.
Micro markets make obtaining a variety of different foods and snacks, including healthy items, easy for people. There's no need for cash, as payment options can include debit or credit, PIN, a barcode scan of employee badges or key cards, and even in some instances, fingerprint technology. Of course, cash is still accepted as payment. Giving your people the option to grab breakfast, lunch, 10am coffee, and a 3pm pick-me-up could be integral to your company's culture.


What an Established Micro Market Looks Like for You
So pricing has been handled. There isn't any on your behalf. The next pieces include meeting with us so we can assess your needs. We'll take a look at the space(s) you have in mind for setup. We'll introduce you to a Bernick's micro market specialist so you can build the relationship from the beginning. Our goal is to be your long-term partner. With Bernick's you can be assured to have:
24/7 Support
Flexible, proactive attitudes
The highest quality brands like Pepsi, Naked, Frito-Lay, and Starbucks
You aren't required to run any sort of reporting on behalf of your micro market. We have a built-in inventory to monitor consumption and trends your micro market's patrons have regarding item popularity and demand. Security cameras and activity monitoring can be set up, and we manage that piece, too.
You partner with Bernick's, we do the rest.