It is Monday morning and you need to arrive at your store an hour early for the delivery of all your refrigerated products. Later that day the alcohol delivery comes late, frustratingly coinciding with the afternoon rush. Dry goods won't come until later in the week and the paper supplies delivery is already two days late.
As the owner of a convenience store or grocery store, that probably sounds like a pretty typical week. Juggling various distributors, equipment suppliers, and advertising partners is a problem that can be frustrating at even the best of times and downright infuriating at the worst of times. Some stores hire a person whose entire job is to manage partners to solve this problem, but that has only minimal benefit on decreasing frustration and increases your expenses, which makes it a weak solution.
A better solution to the problem of juggling partners is to simply decrease the number of partners that your business interacts with. It is possible to decrease the number of partners to a single entity by employing the services of an all-in-one partner. An all-in-one partner can act as a distributor, equipment supplier, advertiser, and service provider all at the same time. This offers many advantages over employing the services of multiple partner businesses.

A Single Relationship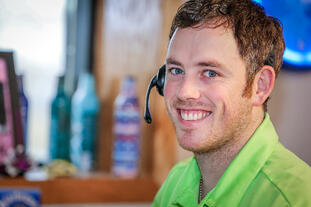 The main benefit to your grocery store or convenience store of working with an all-in-one partner is that your store only has a relationship with a single business, often overseen by a single representative or small team of experts. Because you are only dealing with a single company, and likely an individual person, you only need to devote your time and energies to that single partner. This can optimize efficiency for your business and save you time.
This is also the kind of relationship that really grows and strengthens over time. Your representative learns the ins and outs of your business, your specific needs, and the community your business services. This allows your all-in-one partner to truly live up to the word "partner." Once your representative gets to know your business well, that representative can provide valuable advice and services to improve your earning potentials.

Scheduling Made Easier
When working with multiple distributors and suppliers, you are usually burdened by numerous delivery schedules, which you have limited ability to alter. This means that deliveries may overlap or come at busy times, which can greatly decrease the efficiency of your operation. An all-in-one partner solves this problem because the partner can work with you to schedule all deliveries as efficiently as possible. Once your representative has a good working knowledge of your business, your all-in-one partner can proactively set up a delivery and supply plan that keeps your store fully stocked at all times, and proactively plan to avoid out-of-stock situations.

Keeping Down Costs
The last major advantage of an all-in-one partner is cost savings. Just in terms of time saved, you effectively save money by dealing with only a single partner for all your distribution, supply, and even advertising needs. But, more importantly, you also save money directly. You pay less on delivery costs because you are only receiving deliveries from a single business.
Overall, by combining all of your distributors, equipment, and other suppliers into a single all-in-one partner, you optimize efficiency, save time, and save on costs, which directly causes your business to not only be more profitable in the long run, but a successful one that satisfies each and every customer.