After nearly a year of collaboration, we're excited to announce the launch of BUBBL'R, an antioxidant sparkling water with no artificial sweeteners, colors, or flavors. With only five calories and natural caffeine, we think BUBBL'R is sure to make a name for itself in the industry.

How Does Product Innovation Happen in the Beverage Industry?
Our team at Bernick's keeps an intentional pulse on the beverage industry and where consumer trends are leading. BUBBL'R was developed out of sheer opportunity - by noting specific whitespace in the market. That lead us to our partners at Wis-Pak - a manufacturer and distributor of Pepsi-brand beverages.
Wis-Pak is a cooperative company comprised of 40 shareholders representing family-run businesses like Bernick's. The company distributes products in local markets, and with that, there's a lot of boots on the ground – and ears open too! Those companies listen to the consumers they serve and begin to recognize the need or opportunity in the market for new products.
Marketing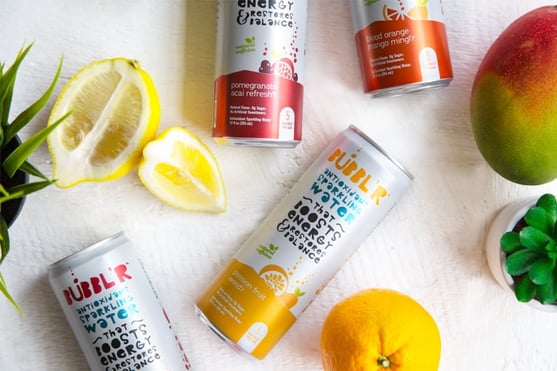 Tyler Hartmann is Wis-Pak's Director of Marketing and Brand Development. He said, "Our Marketing Group consists of key marketers within the Wis-Pak system who are beverage distributors themselves and have intimate knowledge of the beverage landscape. The Marketing Group is where all Wis-Pak Brand innovation starts. BUBBL'R started as a Klarbrunn variant (and that line is also a WIS-PAK developed brand), a sparkling-type water with botanical flavors and the added benefit of caffeine. As it developed into a product, however, it was a little further away from Klarbrunn's core values of sparkling. As a group, we decided to branch out and see where this product was leading us."
Wis-Pak's own brand enables them to fill a hole in the marketplace for products they don't currently supply. Leah Bernick is Brand Manager at Bernick's and said, "We saw a need for a functional beverage similar to sparkling, yet different enough it needed its own identity. There's a fast turnaround time for this regional brand to create beverages."
Research & Development
Tyler continued, "We get samples from our R+D team and where it started with BUBBL'R was 5, 15, 30, and 60-calorie variants of the product for initial tasting.
We knew it wouldn't have any artificial sweeteners, but at what sweetness level and hydrofluoric level would this product be right at? We demo'd the differing versions for various test groups within our marketing department, with Adventure Advertising, and different sectors of people we knew were likely to buy the product upon the release. Natural flavors, natural colors – those attributes we never strayed from.


Creative Collaboration
Gina Nacey, Adventure Advertising President, and Executive Creative Director, noted, "We were involved from the early concepting stages. We partnered with the Wis-Pak team to study whitespace in the market and determine what product we could successfully create to fill that space. To inform our strategy, we studied consumer interest and category trends, which drove the calorie and sweetener conversations. After we determined how we could stand out in the category, we researched naming and packaging trends to identify our niche – not only in beverages but in sparkling water as well."
Gina continued, "Our work with Wis-Pak even included some taste-testing. We loved that BUBBL'R had flavor profiles that were on trend and functional benefits consumers were craving … all of that became core for the identity. We wanted the brand to be personable, helpful, energetic, and fun. We took those product attributes and personified them on packaging design to reflect the effervescent personality associated with the drink itself. That let us tout the benefits in a more fun and interesting way. There's a lot of excitement and energy in the design, which makes it super approachable. It's much less corporate than many other brands."

How has it Been Received?
The BUBBL'R timeline began towards the end of 2015, originally tied to the idea of a Klarbrunn exotic; by the spring of 2016 it was something completely separate; taste and recipe sampling happened in sync with product strategy by the end of 2016. BUBBL'R officially launched in the marketplace hitting shelves in June of 2017.
Tyler added, "There has been good success in stores – and there's a good variety of flavors for everyone. People are asking where they can find it. Our team at Wis-Pak is receiving around five requests per day with product inquiry or feedback. Consumers have embraced this drink with its added health benefits and it might replace current beverages for some of those people."
Gina added, "This is a case of the right beverage at the right time. When people find out its regional, and locally developed, they are surprised based on its recipe and packaging. It's not totally national, but it's in a good portion of the U.S."
What's next for the new brand? 2018 will see further flavor innovation and possible multi-pack style packaging. An increased distribution footprint might emerge as the brand continues to find fans and evangelists in the consumer space.