Our relationships with our customers aren't about our products or brand portfolio. It's about our service model and commitment to helping customers succeed. We often get asked about what makes our service and company different, and over the years we've narrowed the list down to the six most frequently asked questions about partnering with Bernick's.

1. What is Bernick's Best Asset?
Our team members. We have the best, most dedicated people in every area of the company. From how well-versed they are, to the level of training they have, to how they're all focused on meeting customer needs day in and day out. We do what we can to support our team and give them what they need to be successful in their roles. There's great continuity in our company. If someone on our team can't answer a question from a customer, that person knows exactly who to go to for the answer. The same goes for our customers who reach out to us, perhaps getting someone else on the line or to show up. Our team knows our clients, understands their businesses, and is always responsive no matter the situation.

2. What's Your Definition of Customer Service?
Support. And, that can mean a lot of different things, like going above and beyond for Bernick's customers when it's called for. We support the effort that takes, and abide by the philosophy that there really isn't anything we won't do on behalf of our partners - within reason of course! But there aren't any parameters or cookie cutter solutions to customers' needs. Whatever it takes, whenever it's called for. We desire to be more than a distributor. We want to help businesses throughout the community be stronger and better.


3. What Does Partnering with a Family-Owned Business Mean for My Business?
We consider our customers family and treat their businesses like we treat our own. We create a partnership based on mutual benefit and mutual respect, which allows us to have a sense of ownership within each other's business. There should never be a feeling that it's one-sided. We've found that sustaining a business model that is less about business and more about relationships has served us well for over 100 years.


4. What Considerations Go Into a New Partnership?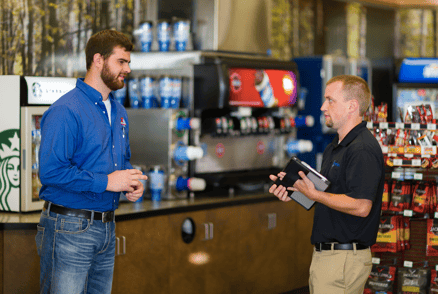 Again, there has to be the notion of mutuality. We have to align with our customers' visions of service, support, and trust in their brand and business. And vise versa. The first step is introductions and learning about each other's business. We would never offer a solution or present our services to a potential customer we know nothing about.
Instead, we determine how a potential relationship would look based on what the customer wants to accomplish. What are we each proud of? What challenges do we face? How do we gauge success? And, what is necessary for the partnership in terms of expectation, communication, and facilitation? Bernick's determines any potential customer's needs and how best (or, maybe not at all in some instances) we can provide a custom service solution.

5. What Benchmarks Accompany a Partnership With Bernick's?
Service in any industry isn't a set it and forget it. For our customers, they want to partner with a distributor who gets their line of business and can adapt and grow with them. At the center of any relationship we have is the consumer - the people our customers are providing solutions to with our help. By sharing the same goal and target, we can work together to determine what is working, and what isn't. We can take stock of the products consumers want and what our customers are providing. That requires working together closely and always monitoring multiple aspects of each business we partner with. We don't wait for an annual or regularly scheduled time to review business together; Bernick's customers appreciate our adaptability when it comes to an ever-changing marketplace.

6. How Does Bernick's Gauge Success?
That's simple: If our customers have recommended us to their network, colleagues, families, or friends, it's a pretty good indicator of the successful relationship we have. If they've stamped their good business name on us and are a testament for Bernick's, we know we can be proud of the work we've done. That's treating each other like family.