If you've been to an airport lately, you may have noticed that if you forgot your charger, perfume, acne medication, cosmetics, sunglasses, book, or even your iPod, you could simply buy one... from a vending machine. So the future of vending looks very bright. Especially because we know that from a business standpoint, accessibility and convenience trump most. How does this trend affect the originators of vending – food and beverage? I'll share my thoughts on the subject with you...
What Came First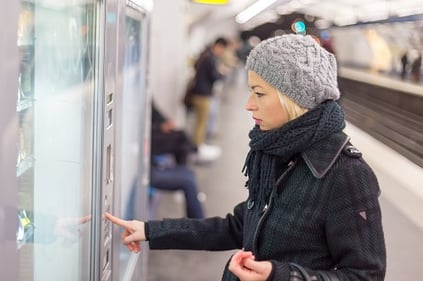 Remember the squatty little vending machines that you could only get stale gumballs from? Yes, vending has changed quite significantly across decades – and for the better. The first coin-operated vending machines originated in England in the 1880's. They contained postcards, stationary, and stamps and were found in train stations and post offices across the country. From the very beginning, the vending machine was about putting the things people needed where they needed them. It stemmed from convenience and access.
From a food and beverage standpoint, the changes in vending are getting better and better. From the days of candy bars and rolls of mints to the wide expanse of healthy, hearty choices that mean actual meals for people seeking out vending machines as part of their daily routine.
Everything is Smart
As technology continues to evolve, so does the user experience. Vending machine advancement is no different. Vending can now be used interchangeably with automated retailing. A year ago, Forbes released a piece featuring eight of the cleverest vending machines, and the strategy behind each. And while the list included some traditional vending offerings, like a branded M&M's vending machine, the rest of the list was pretty innovative. Apples. Salads. Sandwiches. Cosmetics. Clothing.
The point of the non-traditional vending machines isn't necessarily focused on purchases and increasing revenue, rather increasing brand awareness. Would you make a several hundred dollar purchase spur of the moment as you walked past a vending machine? Maybe not. But, when you are ready to make a purchase of that type, you'll be more apt to consider that brand. The convenience factor and top of mind awareness all plays into your decision. Suddenly, you're engaged. Hint: that's called marketing.


The Future of Food and Beverage Vending Machines
Hello, Goodness. PepsiCo is in the process of launching its new, state-of-the-art food and beverage vending initiative. The glass front machines feature good-and-better for you product choices from the brands people have always loved. The Hello Goodness machines will be placed in select healthcare, recreational, transportation, governmental, workplace, and educational facilities. Included products are items like:
Naked Juice
Smartfood Delight popcorn
Lay's Baked chips
Quaker Real Medleys bars
Pure Leaf iced tea
Propel Electrolyte Water
Tropicana Pure Premium
Sabra Ready-to-Eat Hummus cups


Looking at that list reinforces what I know to be true about vending: it continues to get better and better, and people continue to prove the need for the convenience. The spotlight on health in 2016 is the brightest it's ever been. And, national organizations like the Let's Move! Initiative led by First Lady Michelle Obama and the collaboration between the NFL and The United Way for their PLAY 60 joint efforts continue to shed light on the topic of health and wellness. The vending machines of your future will reflect that. And, if all you want is an icy cold 20oz Pepsi and a bag of Doritos, you'll always be able to get that, too. It's all about what you want.