A micro market can change the internal face of your company or business. But how much it will shift what you have to monitor, facilitate, or handle might be what's prohibiting you from establishing one. We know you might think that's a big hurdle to overcome, but we've narrowed the "must-haves" for a micro market down to just three …
1. A Home for Your Micro Market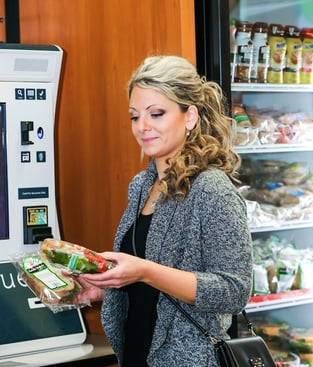 We've shared what a micro market is as well as seven benefits to actually having one for your staff and employees. The next step is determining what needs to be in place - and that's space.
Micro market vending isn't large or obtrusive, and it won't come with numerous components that make installation a nightmare. Take your current vending options into consideration, maybe a soda machine, for example, or a snack machine. A vending kiosk will take the place of both of those options and replace it with an open-spaced and dynamic shelving system, coolers, and displays for all your offerings.
We recommend you place your micro market in an area that is easy to access for employees, but private from other visitors your business might have. High traffic makes sense because it will put what people want, where they are. The location must be non-public. Think break rooms or internal access commons-type areas of your campus. At Bernick's, we can work with just about any location and situation, so if you have a spot in mind, we'll take a look and together we can gauge if it's the best fit for your location and the people who will use it.
2. Get Plugged In
If securing a location for your food vending kiosk to be installed was relatively easy, this next step will also be a piece of cake. Having electricity is key. Electricity! It's that simple, we promise. Each micro market will have components that require electricity including coolers, payment kiosks, and security systems.
A standard three-prong outlet is a sufficient power source, and most machines run on 110 or 115 volts between 10-12 amps, which if you've housed traditional vending machines, that setup has already proven to work. It's the same electrical component as traditional vending, but a whole new customer experience with a micro market.
3. Establish a Connection
Are you sensing a theme when it comes to the bare minimum of requirements you must furnish when it concerns micro markets? The final element you need to set up your micro market is an Internet connection. Kiosk vending machines feature an unattended, "cashier-less" checkout system that can accept cash, debit, credit, or PIN technology as payment options. There's even technology that enables consumers to use their fingerprint as ID for payment. Barcoded cards or existing employee badges could also be used as options for payment. Having its own Internet line will ensure your micro market runs at optimal speed, at all times.
Designed to operate 24 hours a day, micro markets will be well lit, well stocked, and well-liked by the people they serve. Things we take into consideration are habits the inventory points out – what your best sellers are. How many people are looking to be served by a micro market … do you have 150 employees or 500? We also have endless product offerings to get your micro market completely stocked and ready for transactions including beverage, snacks, meal-type options, as well as sundries.
Bernick's will install and maintain your micro market at no cost to you. That's right. No purchasing and no leasing. No kidding!