Letters of Inquiry from Nonprofits Due September 1, 2015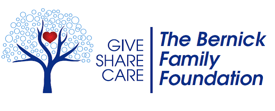 St. Cloud, Minn. – The Bernick Family Foundation and the Central Minnesota Community Foundation (CMCF) announce that $100,000 will be available in the seventh annual round of Bernick Family Foundation community grants. Letters of inquiry will be accepted through September 1. In honor of Bernick's 100 Year Anniversary, the Bernick Family Foundation is also excited to announce that they will be setting aside $50,000 to use for a special giving initiative throughout 2016, with a goal to partner with customers to raise even more dollars for the community. More details on this will be announced later in the year.
"Our community grants process has helped us fund really worthy projects across our service area the past several years," said Jason Bernick, Bernick's Director of Corporate Affairs. "We are looking forward to funding another group of great projects."

The Bernick Family Foundation will accept applications for grants ranging from $3,000 to $50,000 in two focus areas: youth and education or health and fitness. Applicants must be 501(c) (3) nonprofit organizations, schools or government entities serving communities in which Bernick's operates, including the areas in and around Alexandria, Bemidji, Brainerd, Duluth, St. Cloud, and Willmar, Minnesota and Dresser, Wisconsin.

Complete grant guidelines and electronic applications are available through CMCF's website at www.communitygiving.org/pages/BernicksFund/. Letters of inquiry must be submitted online by midnight on Sept. 1, 2013. Nonprofits with specific questions should contact Susan Lorenz at slorenz@communitygiving.org.
About the Bernick Family Foundation
The Bernick Family Foundation was established as a component of the Central Minnesota Community Foundation in 1989 to help Bernick's and the Bernick Family support organizations that reflect the family's core values, while providing leadership in responding to emerging community needs.

Founded in 1916, Bernick's is a fourth-generation family-owned business, providing beverage, vending and food service solutions. The Waite Park-based company has a long tradition of investing in its local communities to improve quality of life. In addition to their support through the Foundation, Bernick's continues as a longtime philanthropic leader through direct financial and in-kind donations to over 100 causes each year. Learn more at www.bernicks.com.
About the

Central Minnesota Community Foundation
The Central Minnesota Community Foundation (CMCF) has been engaging people and connecting resources to build a better community since 1985. CMCF and its partners, Alexandria Area Community Foundation, Brainerd Lakes Area Community Foundation, and Willmar Area Community Foundation, form CommunityGiving, a cohort of central Minnesota foundations who support their local communities through charitable giving. CommunityGiving administers more than 650 charitable funds totaling more than $115 million, and last year granted more than $9.7 million back into the communities it serves. Learn more at CommunityGiving.org.