In the spirit of all things holiday, I wanted to remind you that Bernick's promotes safe, responsible consumption not just during the holidays, but year-round. Enjoy your storied traditions while making new memories, and here are a few beer suggestions and recipes to help you celebrate a little more. Enjoy.
Have Yourself a Very Vintage Christmas
Back by popular demand, the limited time Miller Lite Steinie Bottles are back on shelves, which adds a retro feel to any of your holiday parties. Stick with the theme by pairing America's favorite light beer with a fondue-inspired menu straight out of the 1970s. Here's a recipe for beer cheese fondue perfect for any gathering, large or small! (just make more of it if you're going big!)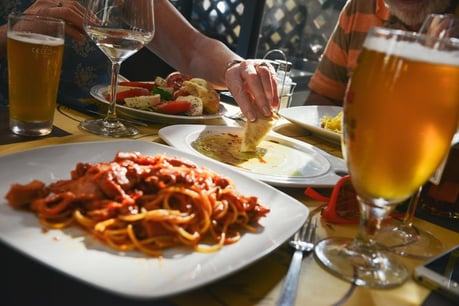 1 C. Miller Lite
8oz. shredded Swiss cheese
8oz. shredded sharp cheddar cheese
1 T. cornstarch
2 tsp. Dijon mustard
Dash Worcestershire sauce
Pinch paprika
Salt and pepper, to taste
Bring beer to a boil over medium; reduce to simmer. Toss the cheeses with cornstarch in a bowl, and add by handful to beer, completely melting each addition before adding the next. Stir in mustard, spices, and serve immediately with soft pretzel pieces or bread cubes, kielbasa sausage, or broccoli florets.

German + Chocolate
A beer with a rich German tradition - Leinenkugel's Bavarian Dunkel. This winter seasonal is a little malty and a little bitter. The term Dunkel usually describes a dark beer, and Leinenkugel's brews their version with cocoa, malt, and hints of berry flavors. The folks at Pints and Plates paired this particular beer with a recipe for Pretzel-Crusted Dark Chocolate Bites, perfect for the annual cookie exchange you always participate in but never know what to make!
3 C. crushed pretzels, ground fine
½ C. unsalted butter, melted
¼ C. brown sugar
10 oz. quality dark chocolate, chopped
2/3 C. heavy cream
Add melted butter and brown sugar to pretzel crumbs, press into the bottom of miniature greased muffin tins. Fill each muffin tin halfway, patting up the sides to create a crust. Bake at 375˚ for eight minutes or until golden. Over medium-low heat, combine chocolate and cream in saucepan and cook until melted, stirring constantly. Spoon chocolate sauce mixture into crusts, and transfer to refrigerator for 30 minutes, serve alongside an icy cold Leinenkugel's Bavarian Dunkel.


Seeing Green
If you're setting your holiday table and paying particular attention to a traditional red and green scheme, you can't go wrong with Heineken. Maybe you've been preserving your Heineken bottles for a few years, and have enough to make into a Christmas tree – yes, it's a thing! While you decorate, put a pot of beef stew on – this classic comfort food includes a unique twist … one that will get you to your very own Heineken tree that much faster.
¼ C. olive oil
2 ½ lbs. beef stew meat, cut into 1-inch chunks
2 yellow onions, sliced
1 T. butter
2 tsp. sugar
2 T. all-purpose flour
2 tsp. dried thyme
3 whole carrots, peeled and sliced
1 bottle of Heineken
8 oz. beef broth
1 T. tomato paste
Salt and pepper, to taste
In a large stockpot, heat oil until hot. Quickly brown the meat well on all sides, five – seven minutes. Transfer to a plate. Add onions and butter to pot and stir on high until onions start to soften. Reduce to medium and sprinkle sugar in. Continue to cook onions until golden brown, about 15 minutes. Add flour, thyme, and carrots. Pour in lager, and bring mixture to a boil. Stir in broth and tomato paste, and return to a boil. Return beef and accumulated juices to pot, and when boiling, reduce the heat to low and simmer until beef is tender, and sauce is slightly thickened, 1 ½ - 2 hours.


But Wait, There's More
Aside from the three beers and holiday recipes I mentioned, there are a few others that deserve to be on your Nice List this year.
Need a last minute gift? Pick up a four-pack of Pilsner Urquell, a Czech Republic lager that comes in a limited edition lunchbox case just for the season. It's a rare beer in that it's the world's first golden lager, brewed true to its original recipe since 1842. The history and heritage of the beer that launched (inspired) hundreds of other beers is sure to a thoughtful, interesting gift for the beer lovers on your list.
The Champagne of Beers for the champagne of all nights! Grab a case of Miller High Life when you shop for your New Year's Eve party – and then party like it's 1903. Light, easy to drink, and appealing to nearly every palate.
Who doesn't want to be a better person when they wake up January 1st? Get a head start on that mission in December by supporting Minnesota's communities with the help of Finnegans. The Minneapolis-based brewery's Drink Like You Care program funds local charities and organizations in need with the help of its beer distributors. Dead Irish Poet is one of my favorites – try this extra stout along side a pungent wedge of bleu cheese!