Consumers, regardless of age, are seasonally-inspired. This applies to how people shop, decorate, plan activities, eat, and drink. Now that summer is in full swing, the seasonality approach tends to make a big impact on the food and beverage industry. In those market verticals where consumers are being served or cared for, like senior living, how are those seasonal needs or preferences being met?
How Preferences Change by Season
The Midwest is home to some pretty incredible seasons; our region is lucky to have four distinct seasons that drive consumer engagement, something brands love to capitalize on. In senior living, offering food and beverages to match the seasons is an easy way to create excitement and inclusion around your nutrition and dining services. Pairing menu items with beverages to enhance the flavors and attitudes of summer can be something new and fun for residents and guests. If you're trying to narrow down a handful of beverages to feature in your senior living community, here are a few suggestions for you.
1. Water That's Anything But Boring
Water doesn't have to be an afterthought to any meal or part of the day. Offering premium water options means not only an increased likelihood of added hydration, but helping boost habits of water consumption in older adults — something many struggle with as they age. Aside from standard bottled water, I'd suggest offering sparkling water which elevates the water drinking experience. bubly sparkling water has 12 flavors plus two limited flavors for the summer season which are watermelon and pineapple. Consider creating an infused water station with fresh fruit or herbs and encourage residents to create a refreshing, healthy drink full of summertime flavor.
2. Cooler Coffee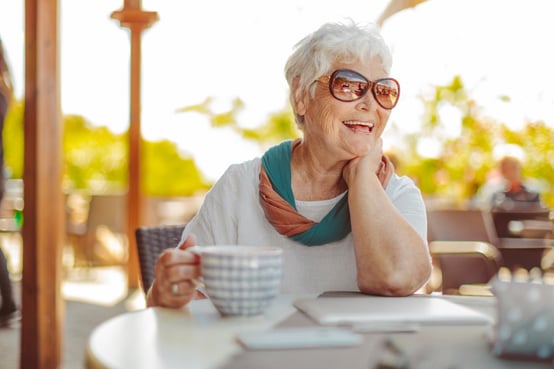 Coffee can be synonymous with older adults, but that doesn't mean what you serve in your senior living community has to be predictable or boring. The current coffee landscape is one full of options and customizations that appeal to every generation of drinkers.
One modern trend is iced coffee, something that's been on the rise for the past four years with the market's advent (or rather, re-advent) of cold brew or cold press coffee. Food service can now mass produce cold brew coffee in large batches to serve customers, residents, or guests with a simple system producing incredible coffee. As temps soar this summer, consider the added perk (pun intended) of featuring an icy rendition of a classic favorite.
3. Antioxidants in a (Juice) Glass
Juice is a classic breakfast table staple, but in the past years, it's gotten an upgrade where health is concerned. The juice varieties of today cover all the bases and offer a little bit of goodness in every glass. Juice fortified with vitamin C, fiber, antioxidants, and even calcium offer a drinkable boost to seniors who sometimes lack in the vitamin or supplement areas. Even a six-ounce serving of juice could help bridge the gap and offer a sweet addition to a bright summer day, no matter where or how it's sipped.
4. Tea for All
Is there anything more iconic than a tall glass of iced tea on a hot day? There's something comforting about the idea of serving tea — whether hot or cold — in senior living. The benefits are plentiful; tea consumption boasts effects like staving off cancer, protecting your heart, promoting memory, preventing bone loss ... the list goes on and on. Tea is also a great canvas for customizing beverages; from black to green to current trendsetter matcha, how it's prepared or enhanced is a fun way to engage the older adults in your community this summer.
5. Floats
As I added iced tea to the list, I couldn't help but think of another classic summertime treat: the root beer float. Senior living communities focus on comfort and creating familiarity; featuring a nostalgic beverage treat is an easy way to do that. There are plenty of ways to make a soda float bar or station customizable; think grape or orange or cream soda varieties. There's an entire soda revolution happening in the marketplace as well, with brands adding the word "craft" to different types of pop. Offering a variety of soda selections this summer can be fun and reminiscent of summers in the past. Ask your residents who remembers soda fountains or soda jerks and you're bound to hear a story or two.
Distribution Partnership for Senior Living
Regardless of season, partnering with a beverage supplier with a large brand portfolio and expertise in the senior living industry means you can offer residents, visitors, and staff the best beverage options backed by unbeatable service. Creating experiences in dining and nutrition services that combine healthy and delicious options should be something that's easy and enjoyable. Find a distribution partner who makes it a priority.