Distribution is an important part of the craft beer process. Aside from brewing the best product, establishing the right service model for your company, creating a brand consumers are excited about, and developing a sustaining business model, determining who to partner with on those goals is a big decision. While it's a business decision, you should take great consideration with who you trust, who you like, and who you believe will establish a mutually beneficial relationship with. Here are five ways partnering with a beer distributor can help you be a successful craft beer brand.
1. Supports Your Production Goals
As with any business, plenty of regulations on both the state and federal sides affect operation. Breweries are definitely not exempt, and licensing, regulations, and taxing of liquor laws has always been a different beast. Independent breweries in Minnesota are allowed to self-distribute until they reach an annual production of 25,000 barrels. So, if your brewery intends on maintaining growth to hit that magic number, consider vetting your options for distributorship early in the game.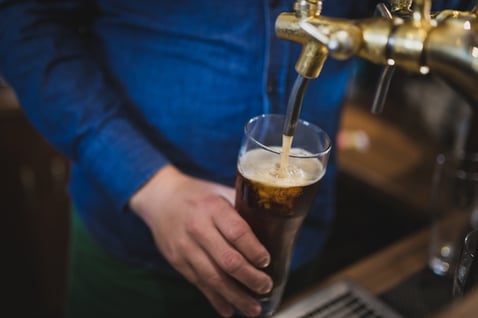 2. Helps You Focus On the Greatest Detail
You brew beer, we do not. It's that whole you-do-what-you're-good-at, and we'll-do-what-we're-good-at collaboration that just makes sense. Ask yourself what you're passionate about, and you'll likely say making beer that tastes good, and serving it to people who appreciate it. Of course brewing beer isn't easy, but neither is distribution. Partnering with a company who will help make your life a little easier so you can focus on what you love is a recipe for success.
3. Establishes You as a Marketing Wizard
If you brew it, they will come. But when, and how many? If you have a taproom with your prized beer on draught, and kegs in the cooler meant for area bars, restaurants, and entertainment venues, what's your plan for letting the world know? A good beer distribution partner will help you market yourself and your product. The network distributors have in the food and beverage industry is far and wide. They can help you plan and promote tap takeovers, grand openings, anniversary parties, expansion celebrations, and industry mash-ups like it's their job. Because it is. And, craft beer promotion is more than just hanging a banner. It's a strategic methodology intended to increase revenue, and elevate your brand to the top.
4. Manpower That Never Ends
You don't have to be unsuccessful at self-distribution to need a beer distributor. There isn't a struggle or failure that needs to happen for you to consider your options for growth. Without hometown support, independent breweries will suffer. And because you're a small business owner, that support has to also translate into revenue. You have a bottom line, and you have to figure out how to do more with less – in this case, time and resources. You know your beer has to leave your taproom in order for you to grow and be successful. Someone has to get your beer out of the taproom. Look at your team, look at your resources. Identity the vans or trucks you'll need for transportation, the driver license classifications needed, and the bodies to do it all. Or, look at a distributor who will handle all of that for you.
5. Your Passion Remains: Craft Beer
Beer. Making it, researching, drinking it, unveiling it, promoting it, and keeping it the number one reason they drink your brand. They don't want you worrying about the intricacies of how the kegs are going to get delivered to destinations across the state, or further. Where's the brewmaster? He or she should be in rubber boots in the back, armpit-deep in mash, ready for impromptu tours or toasting with patrons in the taproom.
At Bernick's we're big on partnerships, and the guys on our beer team have three things they look for in a brewery supplier partner, which I'll share more on next month. The right fit has to be there, for both sides. So if any of these signs resonated with you, contact us and let's start the process. That's our favorite part.