Fountain drinks sales have always been a lucrative option with good profitability. If you are looking to increase your profitability from this type of sale or you are considering adding fountain drink sales to your business, there is a new beverage innovation on the market. This new innovation is the Flavor Fusion machine and Beverage Add-on Kit.


Flavor Fusion Basic Information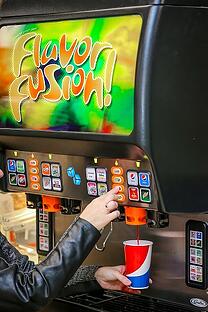 The main advantage of this new fountain drink machine is that it allows you to sell up to 32 different fountain drink brands in a single compact machine. This is roughly 20 - 24 more options than the average fountain drink machine allows for a model of that size. The Flavor Fusion machine lives up to its name and is truly a new beverage innovation. This machine allows the customer to add up to 8 different flavors to the drink. Effectively, this allows your customers to customize their drinks in a similar way to how you might customize your food when you purchase a sandwich from a deli.


A Wide Range of Drink Options
The Flavor Fusion machine can be customized with just about any type of fountain drink syrup you prefer. Every single nozzle can be flexibly configured for either carbonated or non-carbonated drinks, allowing you to include both traditional sodas and non-carbonated liquids like tea or water all in the same machine. The drinks are kept chilled in order to make them refreshing for thirsty customers.


In-Store Convenience
The Flavor Fusion machine has a number of convenient features that are clearly designed with business owners in mind.
Large Drip Tray - This drip tray is 20% larger than the standard fountain drink machine on the market today. This will decrease spills and messes and better protect your store from mischievous customers, making clean up easier at the end of the day.


Flavor Programming - Changing flavors is a cinch for this beverage innovation. You won't need any special tools to reprogram this machine, since all changes can be made directly from the board.


Optimal Option Kit – The Flavor Fusion machine is easily adaptable for your counter, equipment, and customer needs. This single kit allows you to add four different flavors (lemon, lime, cherry, and vanilla) to a single machine.


Self-Rinsing - After every single use, the machine automatically rinses the valves and nozzles. This prevents blockages which interfere with your business.


Proven to Improve Sales
A case study at a Cambridge store proved that the Flavor Fusion machine actually increased fountain drink sales over the traditional fountain drink machine. Between the additional drink options, ability to add flavors to drinks, and the bright colorful design of the machine, this machine increased sales by 25% during the study. If you are looking to improve fountain drink sales in your business, this is a great option, especially while it is new and your competition has yet to discover the advantages of owning this stylish new beverage innovation.


Get Started With Great Fountain Sales
If you aren't currently involved in fountain sales, but you are looking to add them to your business plan, the Flavor Fusion machine is an ideal way to get started. The 30" footprint of the machine is quite small, requiring you to devote very little of your precious store space to this enterprise. By obtaining this from Bernick's, you can also easily get cups, straws, lids, syrup, and an experienced technician that can show you how to maintain and clean your new equipment to keep it in the best shape for years to come. Fountain drinks have a proven record of high profitability and this new machine simply improves on that record.
Flavor Fusion Machines must be pre-qualified. Please speak with a Bernick's rep for more information.