As a bar, restaurant or food service manager or owner you're constantly focused on your operating margins and how to increase revenue without increasing costs. It's like the most basic algebraic formula in the hospitality industry. One key way to increase sales without also boosting your spend is to focus on beverage sales.

Lack of Awareness
If you're not moving beverages across the table, bar or serving window of your establishment, the biggest reason is likely a lack of awareness. This happens both internally and externally. Internally, do your servers, employees and staff know the importance of a robust beverage program? Externally, the lack of awareness is just that. Your customers and patrons just don't know what you offer. In order to bridge those gaps, communication is key. As part of their initial training, include beverage sales in your servers' education programs. Keeping in mind that the word beverage isn't exclusive to your beer, wine, and alcohol.
The biggest opportunity to increase sales actually lies in your non-alcoholic offerings including soda and other carbonated beverages, sparkling and premium water, juices, teas, coffee, and "crafted" offerings. Teach your staff the importance of knowing what you pour outside of your syrup label. Pepsi products run the gamut of traditional fountain soda brands to Lipton, Sobe, Dole, and Countrytime. If a customer orders "water with lemon" – which is quickly becoming the standard – your server could answer with, "Certainly. Would you prefer a Voss, Aquafina Sparkling, or Klarbrunn?" This isn't pushy. This isn't necessarily an upsell tactic. It's simply offering your valuable customers options and customization. It's no different than asking them what they want alongside their burger. It's another aspect of service.
Menu Engineering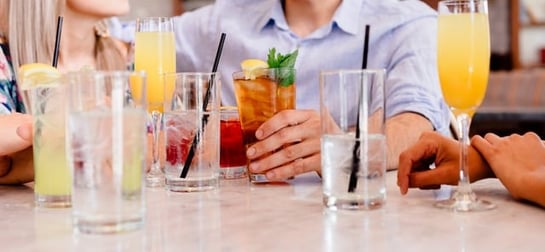 How much time have you devoted (and continue to devote) to your menu? Your back of the house team will probably say lots. And then some. Your menu is your brand promise. Aside from your service model and location, what you serve customers is why they visit and why they return. Devoting the same time and resources to your beverage menu is just as important as the food – there's no reason for beverages to become a secondary consideration.
Consumers have begun to assume there will be drink menus available where they seek food and beverages but might only think of it in terms of alcoholic offerings. Creating a drink menu that proudly highlights everything you pour and offer will offer customers that awareness. It will communicate to them the options and customization and give pause when people revert to the ice-water-and-lemon standby.
How to Increase Beverage Sales
If your guests appear to be water aficionados, not all is lost. You can still commit to boosting sales that impact your bottom line with a few tips.
1. Offer vs. Ask
When your servers or staff greets patrons, change the delivery. Have them greet your customers and offer a suggestion for beverages right off the bat – Hi, I'm Your Server. Welcome to This Establishment. Can I start the four of you with a round of sparkling water and fresh lime? This will lead your customers down an entirely different path of thinking about the beverage portion of their meal and experience.
2. Make it Memorable
Presentation is everything. How are your non-alcoholic beverages presented? Consider the barware you're utilizing down to the quality of the ice and straw or garnish situation. If you're going to promote your amazing beverage lineup, don't resort to serving it in plain or basic plastic glasses.
3. Celebrate Seasonality
If you serve beer on draught or bottle you know consumers clamor for seasonal brews with each passing month. Carry that over into your non-alcoholic offerings, too. Think of the summer's fresh iconic flavors – like a sweet mango iced tea or a rhubarb-laced lemonade. An easy customization would be to follow produce into its seasons – thinking along the lines of pomegranate and blood orange in the winter – even garnishing a sparking water or soda with a fresh, focused flavor will leave your consumers impressed and satisfied.