We're passionate about craft beer. Which benefits our suppliers and consumers because they are both passionate about craft beer, too. It's the perfect relationship. The best part of supporting such a dominant, exciting beverage category is watching it grow, shift trends, and even explode. We're cruising right along with the movement, too, and offering our biggest fans the newest piece of Bernick's craft beer swag – the exclusive, all-new Periodic Table of Beer Styles 2.0 poster.
The Original Fan Favorite
I wrote a blog nearly two years ago – Bernick's Periodic Table of Beer and introduced our consumers, suppliers, and customers to the original poster. At that point in time, craft beer was in a heavy upswing with breweries hosting grand openings in every corner of the state, expanding distribution, and continuing to delight core consumers. It's crazy to think that just two years later, so much has changed … while staying the same. What I mean is, if we didn't originally think craft could get bigger in Minnesota (or anywhere in the U.S.) in early 2015, imagine our hindsight now on the cusp of 2017.
The poster then (as well as now) is intended to support our bar, restaurant, and other beer-serving establishment partners as to appreciate the true scope of craft beer, while truly highlighting the different styles. Each year, the Brewers Association releases its annual Beer Style Guidelines. The document, which is a hefty 37 pages, serves as a reference tool for beer experts, judges, and the common craft beer connoisseur. Think of it as a dictionary and historical periodical that's 100 percent dedicated to beer. What prompted Bernick's to update our Periodical Table of Beer was the fact that 100 total changes were made to this year's version of the style guidelines – we want to provide our people with the best, most accurate tools.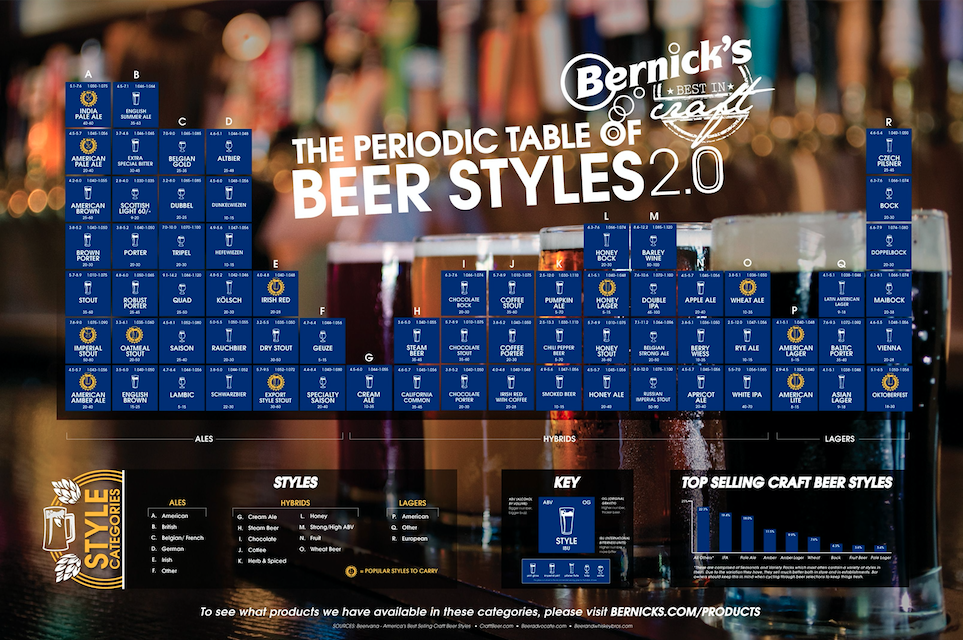 Your Updated 2.0-Version Periodic Table of Beer
The world is an innovative place and constantly changes. Think of releases of vaccines to words being officially added to the English language. Beer might not seem as important as medicine or language … well, it is to some of us! There are 152 distinct styles of beer represented in the style guideline, and each is categorized by belonging to one of three primary styles: ales, hybrids, and lagers. Your updated Periodic Table of Beer more accurately depicts the guiding styles, and where some of the consumers' most favorite brews fall. Some interesting distinctions include Hybrids – which are mixed lagers or ales. In this category, for example, there are American-Style Fruit Beers, Fruit Wheat Beers, and Belgian-Style Fruit Beers. Will your consumers know the difference? Maybe. But your brewers and suppliers will!
The Bernick's Periodic Table of Beer 2.0 still highlights the most popular beer styles to carry, and includes a key indicating which glasses styles of beer should be poured from. Again – will your consumers know the difference? Maybe. But if you pour a blonde ale into a pint glass or a saison into a tulip glass, that portrays you as a thought leader and craft beer guru which supports the industry and pays homage to the fine art of craft beer.
What Hasn't Changed
While the craft brewing scene continually changes, Bernick's commitment to brewers, fans, and our consumers hasn't. If anything, we evolve and innovate to stay current and relevant in such a swift industry. Some of our company's notable highlights surrounding craft beer include: