It's the hot, trending, modern option
Traditional closed vending is giving way to micro markets, and self-serve kiosks where people purchase fresh food and beverages. This rapidly-growing industry is making its mark by infiltrating office buildings, semi-public spaces, and public venues. These unattended markets with cameras and payment kiosks are much more popular than standalone vending machines, revolutionizing the concept of both convenience and variety. Today, Bernick's supports over 120 micro markets across the communities we serve.
Safety and satisfaction go hand-in-hand, especially in these health-conscious times. For our customers operating and maintaining a micro market, we make it easy to be a continual source of safe, healthy food items for your customers.
An Innovative Option for a Modern, Safer Way to Eat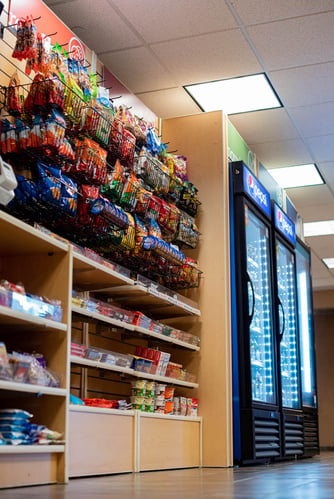 When they were first developed, micro markets seemed a bit too good to be true. An open market concept that operates on an honor system? Oh, yes.
Instead of a traditional vending machine, food and beverage options are stored in coolers and on shelves for easy, self-serve access. Based on a convenience store model, micro markets allow users to take advantage of a wide selection of food and beverage items.
Micro markets can replace current vending programs, or act as a supplementary option for employees and staff. Micro markets provide users with a convenience store feel with vending options and prices. They bring a whole new level of selection, service, and satisfaction to your break room and work campus.
Although micro markets may evoke the general feel of a small convenience store, they have their own unique marketplace style. They offer more products than a vending machine but less than a full grocery mart. Think freshly prepared lunches, healthy snacks, and drinks that people can access whenever the mood strikes. Micro markets focus on the needs and preferences of a select group of consumers and offer a wider range of "better for you" items and products —specifically items that are healthy and refreshing.
Vending machines are the most commonly reported source of worksite food, and two-thirds of larger employers have vending options available, along with about a quarter of smaller-sized employers. Employees feel cared for and are more productive. What are you doing to keep your employees happy and boost productivity?
Keeping Your Kiosks Clean
After micro market patrons have made their selections, they check themselves out using a self-serve kiosk which increases efficiency. Instead of having to carry cash or change to make purchases, customers can charge their purchases to an account set up within the micro market or swipe a credit card. In some instances, micro market checkout kiosks also accept payment with a fingerprint. It's easy, quick, convenient, and focused on long-term success.
For a convenient and fast checkout, we offer the industry's only self-service innovation that can be placed anywhere and everywhere for customer convenience. It's a fresh take on traditional coolers and vending machines. The PicoCooler & PicoCooler Breeze offer more product versatility and a wider, healthier selection. Customers get grab-and-go convenience from controlled-access, high-tech coolers.
Payments are easily made with 365Pay, which offers payment security with touchless technology.
With the PicoCooler Breeze, you can automate product recognition for a frictionless, seamless customer experience.
Financial safety is not the only concern. Today's consumer is also concerned about their health. Kiosk screens and cooler doors, handles, and dry good racks are usually the most-touched surfaces in a micro market. The precautions of keeping a highly-trafficked area clean should be enforced daily and monitored hourly to ensure proper sanitation has occurred to protect users from colds, flu, and other contagious diseases.
Boost Your Business!
Meeting the needs of employees or building tenants happens in a variety of ways with everything from safety to new and updated technology. People get hungry, and if they don't have to leave your building for food, you can develop an almost captive audience. Offering fresh and tasty items in a clean and safe manner will keep them coming back for more, keep them happy, and keep them working.
Micro markets offer convenience and accessibility to healthy food items. But one of their best features is the fact that they are self-serve, which means they don't require any additional manpower to serve employees or tenants. They also offer cutting-edge inventory systems and customized products and setups.
Now for the Best Part
There's no investment necessary. That's right. When you partner with Bernick's, we install and maintain your micro market at no cost to you. No purchasing, no leasing, no hassle. What could a micro market do for your company's culture? Let's connect!