As a business owner, improving employee morale is important. Sure, growth, return on investment, hiring and training, and customer satisfaction are vital to your growth too - but it all begins with ways to boost morale. These methods are the foundation of your organization. And one positive change that would impact your workers is a micro market in the workplace. Micro market vending is especially beneficial to companies that rely heavily on the physical work of employees, like manufacturing for instance. We'll tell you why below.
Happy Employees Are the Best Employees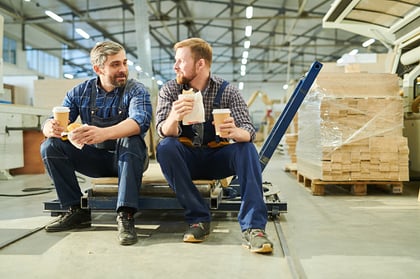 According to the Bureau of Labor Statistics, people spend most of their time at work with 8.7 hours of the day on average, followed by 7.7 hours of sleep. The largest portion of their day is spent within your walls. Recognizing that commitment and the needs they have while at work will improve employee morale.
Micro market vending machines are a convenience-style marketplace that offers individuals endless options when it comes to food and beverage. Whereas traditional vending machines are somewhat limited to snack-type foods, micro market vending can offer meal-type fare including fresher, healthier options from our newly revamped brand. Installing a micro market on your premises provides employees with options to cover breakfast, lunch, coffee breaks, sugar cravings, and even a midnight snack if your operations run a second shift or around the clock. This is a great workplace perk as your employees no longer need to worry about where they'll be able to get their next meal from.
micro markets boost morale
Most micro market vending companies will tell you that a micro market will improve employee morale, but they won't tell you how. Firstly, a micro market vending machine establishes a haven for your employees. Everyone knows what it's like to be tired at work, desperately searching for a pick-me-up. Micro market vending is a place that sits adjacent to all the action, but is secluded enough for employees to take a breather.
As far as workplace vending options go, for most companies the choices are incredibly sparse. Employees across the country are often limited to what they can find in the vending machine, and a vending machine can only hold so much. Micro market vending provides a fantastic solution. You simply line the shelves with fresh, nutritious food and have your employees pick from a plethora of good food. This wide selection will make your employees look forward to their breaks, and is one surefire way to boost morale in your workplace.
Micro market vending machines also contain healthy choices. Over half of all workplaces throughout the US have wellness programs. It's easy to see why. Keeping your workers healthy is one of the best methods to improve employee morale. Why? Because healthy workers get sick less and work more efficiently. The improvement in their health makes them happier overall and gives them the mental and physical strength to complete arduous tasks.
Invest In Your Employees Without Making a Financial Investment
When considering selecting micro market vending to meet your company's needs, it's important to consider your investment. With Bernick's micro market vending machines, your investment upfront to us is zero. Nada. Nothing. There is no cost associated with adding a micro market to your company's landscape. The investment you make in your employee's satisfaction, however, is immeasurable. As far as workplace vending options go, none have the same price as micro market vending: $0
Employee Health and Company Goals Go Together
According to research conducted by Paycor, companies that combined the proper mix of benefits saw employee turnover decrease by 138%. Benefits and perks are something a micro market can provide. The freedom to choose what people eat and drink and when gives employees the flexibility to manage their days and workloads while staying satisfied.
The statistics are consistent - healthier employees are far more engaged than their peers. This improves your company culture too. Recent studies show healthy employees have:
Better job performance
Fewer sick days
Higher engagement level
Lower healthcare costs
Given the sources above, it's fair to say businesses have an incentive to help employees eat better. A great place to start is by supporting health initiatives and providing access to healthy options. Luckily, you can accomplish both with zero financial investment and pretty minimal time investment with the addition of a micro market - an excellent way to support employee health and better your company culture.
What a Micro Market Brings to the Workplace
Even the most diligent employees forget to bring their own lunch from time to time. Having access to healthy micro market options lets employees know they'll still have access to something fresh and delicious, even on forgetful days. Depending on your selected payment options, micro markets can be set up to accept the following: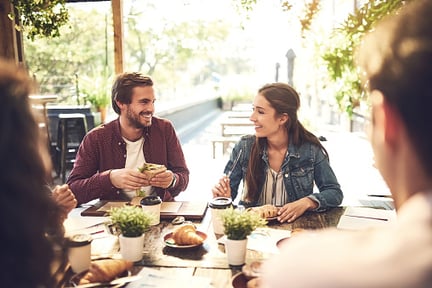 Fingerprint technology
Credit or debit card
PIN number
Employees can set up personal accounts and add credit to their account when it's convenient for them. Then, they only need a PIN or fingerprint to make purchases.
A micro market can also accommodate nearly 400 products including snacks, beverages, fresh food, and sundries. An employee, for example, can browse your micro market's selection at their convenience. And with the number of options available, micro markets are convenient for employees.
Micro Markets Are Convenient
Not only are micro markets convenient for your employees, but they're also convenient for you, too. All installation, maintenance, security, and inventory are handled by Bernick's when you partner with us to give your employees a micro market. All we need from you is dedicated space in a high-traffic, secure place, electricity, and Internet access. That's it. We'll even meet with you to review your company's space layout, needs of employees, and what you ultimately envision a micro market doing for business and the people who comprise it.
Employees report caring, recognition, rewards, and appreciation as positive aspects they desire to come from employers. Adding a micro market to your business allows you to hit on all of those elements, putting your company's culture at the center of your focus. For companies that deal with labor-intensive work, like manufacturing, we believe that micro market vending can improve employee morale and give your workers the boost they need to get the job done. If you're not in a labor-intensive industry, a micro market will work all the same.
Are you having problems encouraging productivity? Every floor manager has been there. Download our free manufacturing checklist to see if your workplace is accommodating its workers correctly. Integrating these methods into your business plan are just some of the best ways to boost morale at your company.