What's old is new again in the case of kombucha, a fermented, lightly effervescent tea intended as a functional beverage chock-full of health benefits. Known as the immortal health elixir by the Chinese, kombucha's origin can be traced back nearly 2,000 years. Deane's Kombucha brand originated in Minneapolis in 2010 and is part of Bernick's alternative beverage portfolio.

All Beverage Categories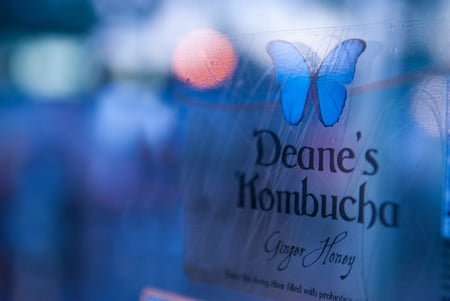 We often get asked why a company that bears the Pepsi logo supplies kombucha. At Bernick's we believe it's important to give everyone options that match unique preferences. Sometimes consumers want soda and sometimes they want something else – maybe a beneficial beverage that boosts immunity or serves other feel-good properties. Our wide range of beverage options appeals to the choices and differentiation our customers and their customers want from drinking experiences, no matter what category they're chosen from.

The Appeal of Family-Owned Businesses
A couple of our team leaders, Dean and John, were in Duluth and happened to visit a restaurant that served Deane's Kombucha on tap – the brand is available in kegs, returnable growlers, and 16oz. bottles. They were both intrigued by the concept of offering kombucha as an alternative to a classic restaurant beverage – soda, iced tea, lemonade, or water. They asked about it and found out about Deane's. Bryan Bertsch (Deane is his middle name) is the brand's founder. He began brewing the tea variety in 2006 for personal consumption, long before the culinary trend began its climb in the market. He began commercial production in 2010.
Dean and John brought the info on Deane's Kombucha back to the rest of the team who dug into the beverage category and brand, doing research to determine the right approach to adding a functional beverage to our lineup. Conversations were had with Bertsch and his team who were very interested in expanding the product's footprint. As a family-owned business, we resonate with their mission and values and can't help but think there's something special about other family-owned ventures, including Deane's Kombucha. It's a one of a kind brand brewed in the traditional way – in small batches with original, well-tended culture. The brand is the only Minnesota-based commercial kombucha producer brewing in oak barrels. The flavors rotate by season as Deane's is committed to using whole, organic fruits and herbs. As its website says, "the sky is the limit for our flavor offerings." Here's what's currently listed as flavor combinations:
Raspberry Basil
Grapefruit Hibiscus
Ginger Turmeric Honey
Wild Blueberry Lemon Lavender
Tropical Mango
Ginger Cherry
Tangerine Hibiscus
Valencia Orange Hibiscus
Ginger Orange
Lemon Lime
Cherry Basil
Buckwheat Honey
Currently, Bernick's furnishes Deane's Kombucha to 40 locations including bar/restaurant, retail, and C-stores in six of the more flagship, year-round flavors. (My favorite is hands down the Wild Blueberry Lemon Lavender!)


Why Kombucha?
Kombucha falls into the functional foods category – edible products said to enhance health. Due to its fermentation, kombucha contains an array of healthy bacteria called probiotics.
80 percent of the human immune system is located in the gut – often called the secondary brain as it functions within the neurological system. The bacteria in digestive tracts support immunity, absorb ingredients, and fights off infection or illness. Kombucha's SCOBY – an acronym for symbiotic colony of bacteria and yeast is truly liquid gold; the bacteria is the good stuff in this snappy, vinegary drink.
Are you interested in adding Deane's Kombucha or other health-based beverages to your lineup, hit the button below and we'll go from there!