If you find your current distributor isn't quite meeting the needs of your business, it may be difficult to forge ahead to consider switching suppliers. Finding the best distributor for your business and needs involves much more than simply comparing items on a price list. We've outlined a few big things to consider if you're on the fence about finding a new distributor partner…


1. It May be Better for Business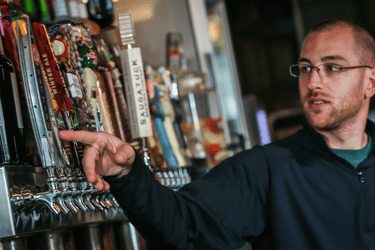 In exploring the decision to switch distributors, you may have the option to combine distribution, supply, and equipment needs into an all-in-one partner you can save time, money, and be more efficient. All of this combined can directly cause your business to not only be more profitable in the long run, but a successful one that takes it to the next level to satisfy each and every customer.
The Dolses, owners of Dolsie's Lunch Box Grille have business experience in transitioning from one distributor to another; they offered advice to other restaurant owners who are starting out or considering a change in partnership:
"You want to be in business as long as you possibly can, and you need the best
people you can to surround you. As a business owner, I look for the best people
and the best products – things that make us look better and helps our business.
That's what it comes down to. You want to be with a company that cares about
you, that cares about the community, and wants to make sure that you're a success.



A huge benefit to your business when working with an all-in-one partner is having a single relationship and line of communication. Not only will this likely save you money, it also means you only need to devote your time and energies to that single partner, and they will do the same for you. Talk about optimizing productivity for your business!
For many businesses, finding the right distributor goes beyond an impressive, full line of products you can offer patrons. It's about the added benefits you might not find with previous or current distributors. Among those top-notch benefits are feeling as though your supplier is a partner. It's about building a reliable, personable relationship that elevates your business.

2. You Could Gain a New Partner
While excellent service on its own is great, it doesn't necessarily equate profit and/or growth. Although it is a piece to the success puzzle, there is a whole lot more involved. When you switch distributors, you're choosing a partner for your business; someone who will help you reach goals and achieve success – however you measure that. A great distributor will be a true partner for your business. They will be experts who can provide quality and respectful advice and help you be at your best.
Working with a partner like Bernick's who has expert staff members is the ultimate distributor partnership. Experienced, committed, industry experts are able to better customize the services you need specifically for your business. Having worked with a variety of businesses over the years, staff experts are able to identify what makes your business unique and in what way it is similar to other businesses. They ask the right questions and can help find solutions to problems that may arise.
A great partner will be able to provide you with more than just industry expertise, support, and beverage and grocery supplies. A distributor partner will be able to provide you with event planning, equipment, custom banners, and promotional items, and POS materials.
As we've mentioned in our blog, We Don't Sell to You, We Partner With You, when your business works with Bernick's, you're not just ordering from a distributor who is trying to make money – you're establishing a partnership with a local business who looks out for your company's best interests, keeps you current, and does whatever it takes to help you be successful.
3. It's Not as Hard as You Might Think
Switching distributors, vendors, or partners can be a big decision. We understand that. But it doesn't have to cause headache, stress, or turmoil. Many think a switch in distributors is complicated and messy – but it doesn't have to be. The right partner will work tirelessly to help you transfer information, ask questions, and make sure the process is seamless not just for your staff, but for your business and bottom line.
Being a small business owner, having the peace of mind knowing that you have a strong, reliable, experienced partner can make a world of difference. Bernick's prides itself on building strong relationships with our partners.
Bernick's has been providing our customers with outstanding service since our founding in 1916. We truly keep our customers as our top priority and continually work hard to exceed expectations and treat everyone with the upmost respect and consideration. Positive, long-term relationships make us successful because it makes our customers successful.