In the first installment of a new four-part blog series on craft beer, we're digging into craft beer's largest core component: water. How often do consumers take a beer or brewery's water source into consideration? Sure, it depends on the level of fanatic or connoisseur but our intention with this Four Core Component blog series is to further educate and showcase the thoughtful craftsmanship behind some of Minnesota's best craft beer brands.

Worth its Weight in Water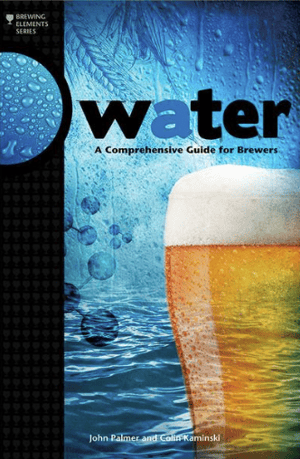 Ask to see any brewer's arsenal of resources on the subject of brewing craft beer and you'll likely spy the Brewing Elements Series by John Palmer and Colin Kaminski. (Spoiler alert; our Four Core Component blog series will follow suit: Hops, Malt, and Yeast). In Water: A Comprehensive Guide for Brewers the synopsis reads,
"Water is arguably the most critical and least understood of the foundation elements in brewing beer. Water: A Comprehensive Guide for Brewers, third in Brewers Publications' Brewing Elements series, takes the mystery out of water's role in the brewing process. From an overview on sources, quality and geography, the book leads brewers through how to read water reports, understanding flavor contributions, and the treatment and chemistry of brewing water."
Water: A Comprehensive Guide for Brewers isn't a primer or lighthearted reading; it's an intense 300-page testimony of why and how water is so crucial to the craft of brewing beer. It's full of context regarding water sources, cycles, mineralization, quality reports, standards, hardness, softness, alkalinity, mash-speak, beer styles, contaminants, technology, processing, and two glossaries chock-full of more words, terminology, and enough chemistry-speak to make your college professor beam with delight. Did you know the brewers at your favorite brewery deal with all that lingo and seemingly nonsensical and overwhelming information on a daily basis? And they do it on purpose?
Why?


You Can't Make Great Beer Without Great Water
And in this case, consistency is the key to greatness.
"Water chemistry doesn't typically induce the excitement and passionate conversations and discussions as beer's other ingredients do such as barley, hops, and yeast. But make no mistake: water is probably THE most important ingredient in beer." That comes from Beaver Island Brewing Company's co-founder and brewer Matt Studer. "It's the backbone of every beer. It's the blank canvas on which a brewer paints, and if you start with a dirty canvas, you end up with a dirty end product," he said.
How Much Water is in Beer?
The answer may surprise you.
Beer, like humans, is comprised mostly of water. Typical ratios are 90 - 95 percent water which is why the ingredient is so important. Water alone cannot be taken at face value; there are plenty of characteristics and nuances at play that affects a beer's overall taste and quality. Take mineral composition, filtration, hardness, alkalinity, flavor, regionality, ground source, all of it. Not only is it craft beer's largest ingredient, but it might also be its most complex too. The differences in the water from distinct geographic regions can severely impact the taste of the beer. It's true that it could be difficult to explain what the differences are, but one thing is certain, they will end up as differences in beer.
"East Coast beers tend to be a little earthier, West Coast beers are danker, and Midwestern beers are juicier," Max Unverferth, one of the brewers at the mobile brewery known as Nowhere in Particular says. "Much of that can also be traced to the ingredients and brewing methods as well, but you can't overstate the importance of water in the overall taste of the beer."


The Land of Sky Blue Waters
Who can forget the old Hamm's jingle, "From the land of sky blue waters?"
Arguably, Minnesota should produce some of the country's best craft beers (and we do, there are plenty of accolades associated with the Gopher State's craft community) simply on principle alone. Home to 11,842 lakes to be exact, one Great Lake, and the Mississippi headwaters to name a few, we know a thing or two about H2O. Our natural lakes have nearly 50,000 miles of shoreline more than the state of California which boasts an ocean. So what do the independent craft brewers in Minnesota do with all the agua at our disposal?
Superior, Superior Water
When it comes to the "perfect" water for brewing beer there are two words: Blank Canvas.
That's what every brewer says makes the best water for brewing; it's not so much what's in water but what's not. It's a lot harder to strip water down than it is to add back in minerals that brewers want to brew a specific style of beer.
North Shore Style
With Ursa Minor opening months ago in West Duluth, the city now boasts nine breweries, or as MPR reported in its piece Duluth's Claim of Superior Beer? Science Says They Hold Water, one for every 9,500 residents. In that article, Bent Paddle Brewing co-founder Laura Mullen said the water was a big reason they chose to open in Duluth, and not the Twin Cities. And she says it's also a big part of their marketing. "Ten percent of the world's fresh water is in Lake Superior, (and) 100 percent of our beer is made with that water," she said. "That's pretty much on everything that we do."
Is this old news? Duluth breweries have been marketing their water since at least the 1940s, when Fitger's promoted its "Pure Lake Superior Water." Old? Sure. Established is more like it. But as with most things, innovation is the key to making everything old new again.
In 2017, 20 Minnesota breweries were sent a single vial of water from Lake Superior to incorporate into one beer each to feature at the All Pints North craft beer event in Duluth. The Superior Series as it was called was intended to celebrate water's all hailing greatness and importance central to great craft beer. Urban brand Utepils created a specialty beer in Ewald the Superior, a Bavarian-style hefeweizen that has notes of citrus and the aroma of bananas and clove. Voyageurs Brewing with its taproom a stone's throw from Lake Superior in Grand Marais turned out American Point Pale Ale, an American pale ale with a light body and a hop-driven flavor.
Lon Larson & Clint MacFarlane, Castle Danger Brewery, Two Harbors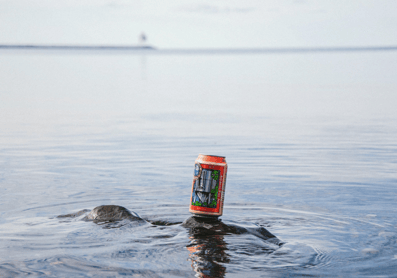 In an article published by the Star Tribune in April 2018, Castle Danger, Winner of the Ultimate Beer Bracket, Basks in the Glow of Glory by Amelia Rayno, the co-owners of the North Shore's little brewery by Superior's shoreline commented on the Great Lakes effect.
"And it doesn't hurt to be next to the largest freshwater source in the world, either," Larson said.
The article posed the question How does using Lake Superior water affect the quality and taste of your beer? "Lake Superior water, there isn't a lot of minerals in it, so it's a really nice, blank canvas to brew with. You can make those softer beers, the pilsners, the more delicate beers that are typically more challenging to brew just because of the base water. It just kind of gives us a very easy platform to start from."


The Mighty Mississippi
Matt Studer, Beaver Island Brewing Co., St. Cloud
"The sole source of our water comes from the Mississippi River. Why this is important to the brewery is that we always have a constant and consistent source of clean, treated water and we need to make minuscule adjustments to it before using it as brewing water."
"We chose to situate our brewery in St. Cloud because of the superior water source which lends itself as the main ingredient in our beers. The city of St. Cloud cares very much about the water it provides its residents, and it shows. They invest heavily in water treatment facilities as well as source water protection plans," Studer added.

The Mississippi not only lends the main ingredient of its beer to Beaver Island Brewing Co., but the branding and established name of the brewery itself is a nod to the river's cultural lore and significance to both the city of St. Cloud and the brewery's founders.
What's in a Name?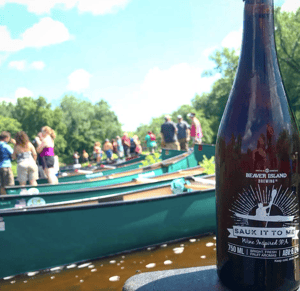 Studer explained, "Obviously, the Mississippi River is part of every single one of our beers. There's a cluster of islands called the Beaver Islands, maybe 15 of them just below the St. Cloud dam south of St. Cloud State University which owns a few of them. Zebulon Pike found and named them when he was commissioned to find the mouth of the Mississippi. Those islands were completely choked out by beaver dams. I grew up down there fishing and canoeing, as did Nick (Barth) and Chris (Laumb). It was easy to name our brewery after something so near and dear to us."
Beaver Island Brewing Co. even named one of its flagship beers Sweet Miss, a chocolate oatmeal milk stout that pays homage to the longest river in the U.S., the Mississippi. The brewery also paired a staggered IPA release called River Hopper with a summer-long promotion that took drinkers out of the taproom and put them into canoes for downriver trips. Studer said, "The river is important to us. Always has been, always will be, and we're proud to promote it any way we can."
Throw it in Reverse (Osmosis)
Municipality & Public Works

What do you get if your brewery isn't situated next to a Great Lake or iconic river?
You get what a majority of Minnesota's craft breweries located in the Twin Cities metro get: city-sourced water. And with it, a little more work to get it where it needs to be for the backdrop of brewing beer, and brewing it consistently. The team at Insight Brewing chose Minneapolis for the brewery's home due to Minneapolis' water and its low mineral content. Some municipalities need to constantly change their source of water depending on the time of the year and climate, which in essence turns the water itself into an almost seasonal ingredient requiring near-constant tweaking and adjustments just to maintain consistency.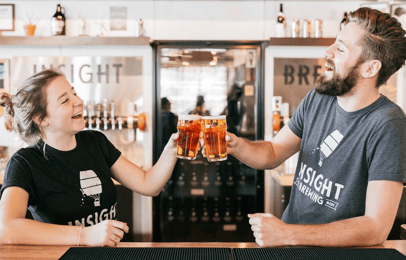 This is typically done with reverse osmosis systems which strip the water completely of any minerals resulting in 94 - 99 percent pure water. From there, a brewer can build the water back up to emulate the water from any municipality in the world. The water chemistry of the water in Munich, Germany, or Pilsen, Czech Republic is of public knowledge.
If breweries in Minnesota wanted to start with similar water from these rich, historical powerhouse beer regions of the world, all they'd need to do is get the water chemistry of said water sources, strip their brewhouse water with reverse osmosis processing, and start assembling it back together with brewing salts and minerals. The pH, hardness, and alkalinity are the three main attributes of interest to a brewer and can all be adjusted accordingly.
So in short, you can make great beer anywhere so long as you have great water. It just might take a little manipulation or a few more steps to achieve it.
Ilan Klages-Mundt, Insight Brewing, Minneapolis
On November 8, 2017, MPR economics correspondent Chris Farrell hosted a panel discussion with Benjamin Boo of Mighty Ax Hops, Ilan Klages-Mundt of Insight, and Rebecca Newman of Summit at the Southern Theater in Minneapolis. It was organized by the Water Main, MPR's new initiative aimed at helping Minnesotans understand the value of water in our everyday lives.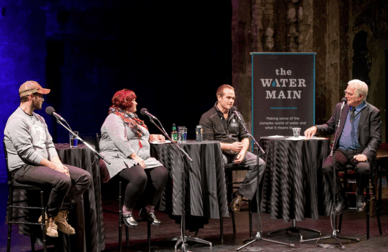 Klages-Mundt, a co-founder of Insight Brewing in Minneapolis, said for him, good water stewardship is both a conservation issue and a business issue. He thinks consumers should care about breweries' commitment to stewardship.
"As a consumer, I think it's important to be educated and ask the questions of the breweries that you're consuming the products of," he said. "Are they paying attention to conservation?"
Conservation: Brewers for Clean Water


Insight Brewing is a member and supporter of the Natural Resources Defense Council's Brewers for Clean Water coalition to protect the Clean Water Act. From its website, "Of course, clean water is essential to more than a great-tasting pint — it's also critical for our health and our economy at large. That's why dozens of breweries have joined NRDC's fight to protect the Clean Water Act. Responsible safeguards protect our product from upstream pollution and help us protect our downstream neighbors."
71 percent of the earth is covered by water. Beer, as you now know, is nearly all water. It just might be our one great unifier after all. We know for certain water is a core component of craft beer and just the kickoff to our four-part series. Stay tuned for further installments as we explore hops, malt, and yeast in the land of 11,842 lakes.