Part of what makes craft beer such an experience is the variety. Gone are the days of only having brews such as Miller Lite, an export like Heineken, plus maybe a dark beer like Leinenkugel's Red. Now, beer offerings change nearly weekly, especially craft beer. Limited production runs, cask or firkin series, and infused brews are all ways to change up the beer list at your account. An easy way incorporate new offerings from breweries that you already know and love is to offer their seasonal beers, and next up are fall seasonals.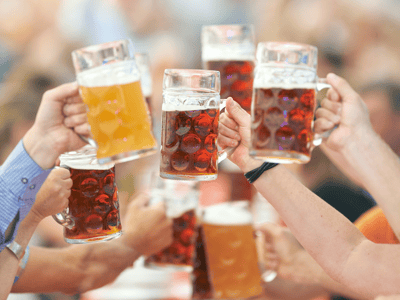 To Everything, There is a Season(al) Beer
Consumer habits change throughout the year, and particularly so in Minnesota and the Midwest where seasons tend to hold natural jurisdiction over when these habits change. Just as people stalked their favorite hangouts eagerly waiting for the patio to open for the season and begin offering summer beer like Shandy-varieties and lighter options, they're anticipating the patio closing party as fall seasonal beers begin to make their debut. The whole enjoy-it-while-it's-here mentality is common and often a target for marketing campaigns across the industry. To know certain seasonal beers are exclusive gives people the notion that they're fleeting. To be savored now, until re-release in the future.
Fall is no different; in fact, it is considered to be the biggest transition beer takes in the course of a year. For you history buffs, Oktoberfest originated over 200 years ago to celebrate (for 16 straight days!) the marriage of King Ludwig to Queen Therese in Munich, Germany. While historic in nature, is spawned a cultural reference and phenomenon that today translates into celebrating beer each fall. Minnesota breweries like Schell's in New Ulm host their versions of Oktoberfests each autumn.
What Makes Fall Beer … Fall Beer
Just as pumpkin spice everything returns to coffee shops, bakeries, and the shelves of retail store, fall beer flavors and profiles change. Autumn sampler packs usually include heavier, darker, and richer-flavored brews including Marzen-style lager beers, which are well-aged and darker in color. Traditionally, multi-roasted malt beers have caramel and toffee flavor reminiscent of autumn tastes.
Brewers have the ability to showcase their talents and foster those "cult-like" followings that their fans often have by adding seasonal beers to their product list. Respectfully, your patrons will appreciate your roster of revolving beer in time for football season, hayrides, and harvest. It keeps you current, relevant, and top-of-mind when it comes to where to go for those coveted fall seasonal beers.
Bernick's Fall Favorites
Fall seasonal beer accounts for 1/3 of annual craft beer sales and continues to show growth year after year. We anticipate that the beers listed below will be some of Bernick's top fall seasonal beers this year…
Leinenkugel's Oktoberfest
In 1845, Jacob

Leinenkugel

immigrated to Wisconsin from Germany. The roots of this Marzen-style are true. The spicy hop notes are the perfect fall flavor.
Third Street Session Oktoberfest


Drink local

! T

his session Marzen is perfect for prolonged revelry, with rich malty flavor and 4.6% alcohol for good times all day long.
Samuel Adams Octoberfest
Traditionally the industry leader and fall seasonal favorite nationwide. Blends hearty malts with caramel flavor, a nod to the Oktoberfest of 1810.
Summit Oktoberfest
Rich, toffee malt flavors mixed with a clean hop finish.

Its tagline is

, "Unfortunately like the fall colors, this seasonal beer is gone before you know it!"
Beaver Island Oktoberfest


A Märzen style lager made with a careful blend of Imported German malts and hops along with a long cold aging process, resulting in a perfectly balanced brew. Prost!
It's important to offer your patrons seasonal beers. They've come to expect it, and will be asking for them, so be prepared. The release keeps getting pushed earlier and earlier, with the majority of labels hitting the shelves now in August. Even if the weather is warm, palates are ready for fall. Consider hosting a "fall tap takeover" or release party to engage customers and promote business. If you need help – we love to throw parties!