When a brewery opens its doors, it has already been through many phases of construction, new business-type operations, and decision-making regarding every last detail. One of the most important decisions a brewery makes is what it will pour, and which brews receive the coveted flagship designation.
What is a Flagship Beer?
When a brewery opens, it will feature certain beers, and usually, there are a few that will always be available and will be brewed the same way time after time. Those beers are called flagship beers and usually appeal to a majority of beer drinkers. One of the best aspects of craft brewing is the innovation and risks brewers are able to take on behalf of their brewery, but having a consistent part of the brand that is never strayed from is a surefire way to promote loyalty and grant unique marketing strategies. Each brewery wishes to embrace diversity, and offer beers not found at every competing place out there. That's the unique call of the brewmaster and employees and ultimately, what is most important to establish for their customers. Flagship beer is an evolution in brewery identity.
If you look at some breweries' websites, flagship beers are also referred to as year-rounds. Leinenkugel's for example lists beers in categories – season, variety packs, year round, and Big Eddy, which is a special series that delineates from its traditional line.
Is Non-Flagship Beer a Trend?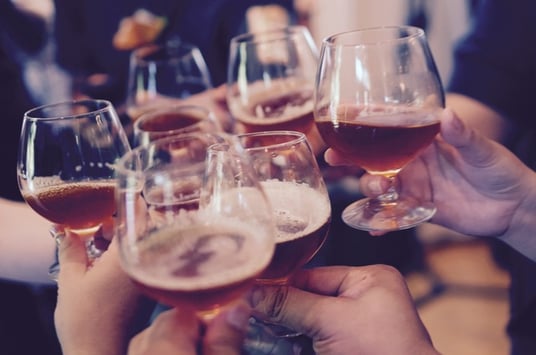 Some breweries can't imagine making hundreds or thousands of barrels of the same beer and won't ascribe to the typical flagship-type permanence of any one style. But, there's lots of room for interpretation. For years prior to this current micro brewery resurgence, breweries were about brands – not about destinations or community or even the cult-like following they are today. So when people talked about those breweries, there often wasn't the distinction between beers – just that it came from a brewery.
Let's use Schell's as an example because they've been around for 30 years. 10 years ago, a consumer could say, "I like Schell's beer," and that could sort of run the gamut for the brewery and everything associated with it. Meaning, "I like the brand." Now, those same fans can say, "I like Summit EPA (Extra Pale Ale)" and have it mean the style, the flavor, the experience. Sure, it can be implied that the drinker is also a Summit fan, but it's less about the brand and more about the independent styles. Some breweries have consistent offerings, but keep refreshing the style by adding different flavors infusion, aging it, featuring it on nitro, or playing off the season and incorporating current flavors into the batch.
Fly Your Flagship
Minnesota is home to more than 120 craft breweries – and if each brewery has one to four flagship beers, that means there's anywhere from 120 to 360 different varieties of Minnesota's best craft beer featured as the state's signature craft beers. Thinking about promoting the state as a true heavy-hitter in the craft scene led us to ask our customers and consumers what they think of the best of the best. That inquiry then led us to create an "ask the people" type promotion that will do a few things. One – it will foster the Minnesota-nice cohesion that the breweries in this state have going for them; two – it will shed light on some under-the-radar breweries and beers that the rest of the population might not know about yet; and three – it will reward feedback by presenting each commenter with a Bernick's-crafted, custom made #MNFLAGSHIPBREWS poster.
How it works – visit our website here and share with us your favorite Minnesota-based brewery or beer. We'll then create a custom poster depicting the responses between the state's borders. And for your hard work – we'll send you a copy of the poster to hang proudly in your favorite space to drink beer! And no, the beer you nominate doesn't have to be considered a brewery or brand's flagship beer, just that you believe it's the best of the best.