The food service industry is full of opportunity. And, it's full of change, which makes the role of a food service director or manager a difficult one. More specifically, when you're part of a senior living community's nutritional services team, food and beverage are almost elevated beyond basic human need. The act of dining together, the responsibility of providing nourishing food, and the emphasis on social time are all important considerations … but what about coffee in senior living communities?
The Flavor Culture of Older Coffee Drinkers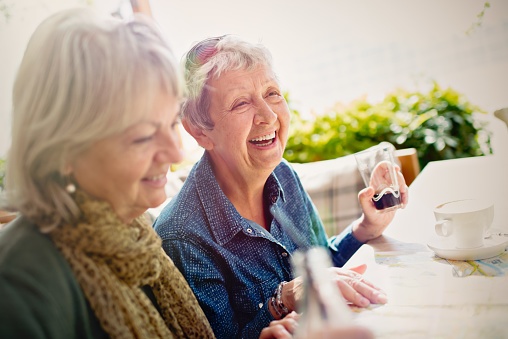 Do you remember when the options for coffee included black or with cream, or regular or decaf? It's safe to say those days are in the past as coffee continues to evolve and bring more variety and customization to drinkers - older adults included. The flavors available today alone warrant a hard look at what you're offering to the residents in your senior community. Coffee hour or coffee with dessert have long been what the aging population has been associated with, but that might look different to you and your campus or facility.
What options should you serve the seniors under your program's care?
Flavors that match the seasons - think pumpkin spice during the fall and peppermint during the winter
Holiday-based coffee drinks that encourage trying new things with a celebratory cup
Iced or cold brew options - iced coffee preferences are on the rise, year-round
Ready-to-drink options that can be available for on-the-go people and guests
Coffeehouse-inspired coffee featuring syrups, creamers, sweeteners, and other add-ons
Non-coffee hot beverages including teas and ciders
Decaf versions of favorites
Caffeine's Impact as You Age - Specifically, Coffee for Seniors
Decaf often gets a bad rap, but it's not entirely the buzz-less beverage's fault. In fact, a lot of aging adults prefer decaf – and for good reason. Scientific reasons to be exact. Younger people are able to metabolize caffeine more quickly than older adults. In a study of people aged 65 – 70, it took 33 percent longer to metabolize caffeine compared to those below them in age. In some cases, caffeine can also counter effect certain medications or interfere with other health-based measures. It's important to offer decaf in varying ways in senior living nutrition services.
Baby Boomers Shake Things Up
There are a few things at play with the current state of the aging population. First, baby boomers (those born between 1946 – 1964) will bring a 75 percent increase in people over the age of 65 needing senior care – or an estimated 2.3 million people by 2030. Secondly, that same generation is expected to live longer – with the U.S. life expectancy rate now at 79 years of age.
And, baby boomers love coffee. Good coffee. Along with coffee, they love choices, customization, and healthier alternatives to classic standbys. They take their coffee as seriously as they take their food. As this generation of older adults transition to independent senior living and continuing care communities, they aren't going to choose new homes with lackluster offerings. This research backs that up – according to 2016 Creative Concepts Senior Living report published by Datassential said having a coffee shop at a senior living facility was important to 72 percent of people choosing such arrangements. That's a big number. What are you offering your residents, staff, patients, and guests?
It can be daunting to consider changing your senior living community's beverage options. It's more than selecting a different portfolio for product differentiation. When it comes to the coffee you're serving, the possibilities are endless. An updated or overhauled coffee program can be added to your current beverage lineup without having to completely remaster your dining services' distribution plan.