Remember the old adage about not being able to have your cake and eat it too? It never made much sense to me. After all, what is the point of having cake if I can't eat it? But anyway, the moral of that story is to help people understand how they can't have the best of both worlds. It's an important lesson to learn, and in a lot of respects, it's true. But not always. Especially when it comes to coffee distributors for healthcare programs.
Life is always built up with certain sets of limitations, when it comes to a hot beverage program in the healthcare industry, some of the greatest limitations are things outside your control: storage space, support staff, and consumer trends all affect what's possible and what's not.
Bernick's Hot Beverages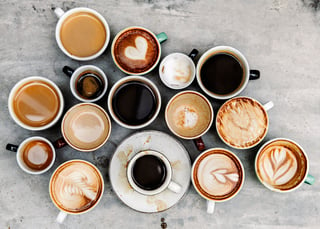 One area where you can have the best of both worlds is with coffee for healthcare. Bernick's allows you to keep the hospital beverage distributors you love while opening up the possibilities for new beverages. There's a misconception that partnering with Bernick's for hot beverages means you have to switch fountain and bottled distribution as well. But Bernick's presents an alternative, letting you maintain the same delicious coffee distributors.
The truth is, adding Bernick's hot beverages in your hot beverage program does not mean you have to get rid of what you currently have. In fact, choosing to add Bernick's to your current line-up doesn't have to affect any of your current distribution contracts. Yes, we distribute fountain, bottled, and alcoholic beverages too, but we're not an "all or nothing" distributor. It's about customizing what our customers want in order to serve consumers.
Bernick's Hot Beverage Program
To add the greatest value while eliminating a lot of the hassle, we offer a hot beverage program. Through our coffee for healthcare program, we supply some of the most popular brands, including: Caribou Coffee, Wolfgang Puck Coffee, and New England Coffee Company. We hand-pick the best coffee distributors. Why? Because we want to be known as one of the best beverage distributors for healthcare. Beyond coffee selection, Bernick's provides a plethora of serving equipment: thermal servers, Keurig K-cup machines, bean-to-cup machines or glass pot brewers.
Our program comes with an exceptional service agreement ensuring your hot beverage equipment stays in working order. Because when your equipment is down, there's just no profit to be made. In fact, our service agreement is so comprehensive, many hot beverage programs maintain a service agreement with us even though their equipment and supplies come from another vendor. Our service is just that good.
The Bernick's Difference
Beyond the supplies and machinery, Bernick's provides promotional support and annual feature calendars to our customers. This ensures your healthcare facility has a trendy, hot beverage program before the seasons change. We're invested in keeping your hot beverage sales soaring, and we often provide our customers with IRCs (instant redeemable coupons). These coupons typically bundle products together, increasing purchase rates.
When you partner with Bernick's hot beverages, you're partnering with a vendor who's invested in the success of your healthcare facility and who'll support you along the way. When it comes to coffee for healthcare, you can't go wrong with Bernick's.