There are certain things to look for on the front end of a new partnership with a beverage distributor - here at Bernick's, it's what we call The Big Three: portfolio, equipment, and service. But that's only the beginning. There can (and should!) be so much more to your relationship with a beverage distributor. I'll share the little extras below.
First of All - Portfolio
You need to assess your business needs dependent upon the type of business you are. Bar or restaurant, C-store, campus, micro market, etc. Understand your clientele so you can understand the demographics of what your people want. Carbonated soft drinks (CSD) are always important, but so is the growing sector of non-carbs and healthier drink options. Look for a distributor whose portfolio has more than soda. Assess what a beverage distributor offers for lemonade, teas, and other drink innovation.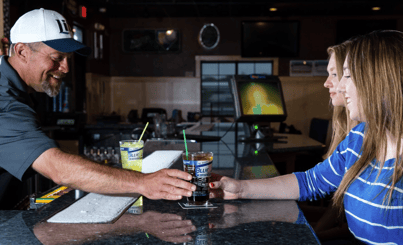 Innovative Equipment
When most people think equipment, they think standard fountain machine. But, there are lots of different technologies available to people seeking a better fountain experience including icemakers. We find it's the equipment that ensures customers pour the best glass of whatever they're serving. Ask the distributor about the equipment they have available. The next question you should ask them is will they stand behind that equipment, service-wise?


Service
Ask your distributor about the equipment agreement they have in place. Most of the time and dependent upon state law, Bernick's doesn't charge customers for equipment. Some distributors charge a rental fee, but won't service the equipment when the need arises. We have experts onsite who specialize in equipment and are available 24 hours a day should our customers need it. We are a one-stop shop for continuous service. We'll stock the product, furnish the equipment, and handle any service our customers need. We believe an all-encompassing approach to beverage distribution is best. Consider what a potential beverage distributor's service model looks like. What does the chain of command look like, and how will they prioritize your business' needs?

All the "Little" Things
Let's say you've chosen your beverage distributor, and you've worked through portfolio, equipment, and service. You shouldn't stop your search there, however. There's an entirely different set of standards to look for when vetting a fountain distributor that comes after you've agreed to do business together. We think of it as a service level agreement, and we place a lot of value and emphasis on this portion of the relationship, too. It's truly about the little things - here are a few of ours:
Business Review
Seems basic, doesn't it? But it's crucial to long-term success. Bernick's is never a set-it-and-forget-it distributor across any of our service areas, fountain included. Distributors should be reviewing results. They should share innovation with you, and opportunities for growth, as well as new products or equipment that benefit your business. There should be conversations about programs or marketing support available to the distributor's customers. For example, Bernick's works with customers on menu support. The simple act of adding fountain beverage logos or line items to a menu can increase beverage sales by 20 percent.
We offer solutions, and any good beverage distributor should be having proactive conversations that extend beyond fountain. What else can your beverage distributor add to your lineup? What other categories do they represent that your bar or restaurant could benefit from?
Brand Integration
When considering partnering with a beverage distributor, determine what their ultimate goal is. Are they looking to splash the brand all over yours, and make it an in-your-face-style representation? Ask how they intend to collaborate with your business. Our goal at Bernick's is integration. We want to help you by pulling out your brand identity to promote it to consumers by complementing it with ours. Those initiatives take investment – as any good partnership should have. Have the conversation with your intended distributor to see how they align with your team.
And More
Do they offer staff training or menu support? Can they offer marketing and promotional ideas to drive customer engagement and loyalty? Does an incentive program exist for businesses like yours? How accessible will your distributor be as your relationship progresses over time? Our team helps customers brainstorm ideas, and look for ways to promote their beverage programs and the overall success of their business.


Installing a fountain unit and delivering product is only a small fraction of what a beverage distributor can do for its customers. That is truly only just the beginning. So often when people begin their search for beverage distributors they're hyperfocused on price and the money side of it. I'll urge you for the benefit of your business to look beyond the economic side of the potential partnership, and dig deeper. Look for all the little things that are so necessary for long-term success.