A cup of coffee means a lot of different things to a lot of different people. Whether consumers are seeking a warm cup of comfort, their daily dose of caffeine, a mid-day pick-me-up, or a little "me time," a cup of coffee certainly hits the spot. Coffee is much more than a trend; it's a social mainstay.
Coffee is available almost anywhere. Why? Because someone always wants coffee. While some consumers are willing to get just any cup of coffee, a preference for a gourmet coffee experience is growing, especially for young adults.
How Coffee Became A Gas Station Staple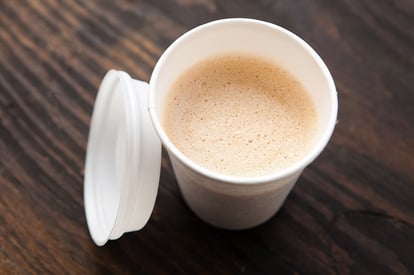 Gas stations and coffee are a natural pairing. Since their onset, gas stations have been all about providing consumers with convenient access to gas and goods. I mean, the name convenience store had to come from somewhere. And, providing freshly brewed coffee to go falls right in line with providing people with what they want when they need it.
It wasn't until the late 1960s that coffee in a to-go cup first became available at 7-Eleven gas stations in Long Island, NY. The offering was an instant hit with consumers and soon became standard at gas stations nationwide.
Ever since then, gas station coffee dispensers have been a staple in stores everywhere. As coffee shops offering premium coffee drinks with any and all customizations and additions become increasingly common, gas station offerings have adapted in order to stay competitive. Commercial coffee machines and commercial cappuccino machines, for example, have changed the way coffee lovers view gas station coffee - and the offerings are only getting better.
Gas Stations Are Taking Coffee Counters to The Next Level
Providing consumers with quick, convenient access to what they want can keep them coming to your coffee counter instead of heading to the coffee shop. The first step in stocking what the people want is knowing what the people want.
Gourmet Beans
As consumer tastes become more sophisticated, your average shopper is less likely to settle for an average bean. While the people still want fast and convenient, they also want quality.
Bean-to-Cup
Bean-to-cup brewing systems are making the best possible flavor much more accessible. These brewers take you from whole bean to steaming cup of coffee in just a few moments.
Customization Options
For someone whose standard coffee shop order is a mile long, getting a coffee they want from a gas station might not sound possible. By providing a variety of creamer, sweetener, and flavor options, your consumers can DIY their coffee order without the long lines or the high price.
Keep Coffee Consumption At Your Counter
Although coffee consumption doesn't appear to be going anywhere anytime soon, the way people take their coffee continues to change and evolve. Gas station coffee counters offering a regular cup of coffee might be missing out on an opportunity to provide more consumers with access to the coffee they're looking to buy.