As of June 21st, summer has arrived. What better way to fully commemorate the season than by digging into the fresh, local options available through Bernick's micro markets? We paid a visit to one of our micro market sites in the area to see what people were enjoying in the name of summer. Here's what's hot right now.
Summertime Staple: Chicken Salad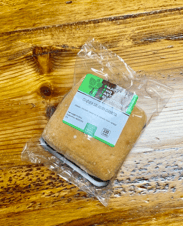 There's nothing pretentious about chicken salad. In fact, it's a hearty sandwich anyone can enjoy. The version we have in stock in our micro markets is piled high on a fresh ciabatta roll. Juicy chunks of white-meat chicken is diced and folded into a creamy, tangy sauce of mayo, lemon juice, and black pepper.
Celery and red onion add a crunch to the cool chicken salad. If it tastes homemade, it's because it is. We partner with a local caterer whose home-style chicken salad recipe is top-notch ... and top-secret.
Mixed Fruit Medley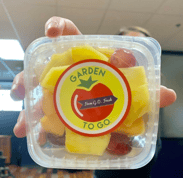 Even our fresh fruit craving has a seasonality to it. In the height of summer, we want melon, pineapple, and red grapes that snap when you bite them. The cantaloupe alone is worth the purchase. Adding this portable container of ready-cut fruit alongside a sandwich just makes the meal complete. One customer purposely snuck a few red grapes into her chicken salad sandwich. What an excellent combo idea!
So Minnesota! Turkey Swiss on Cranberry Wild Rice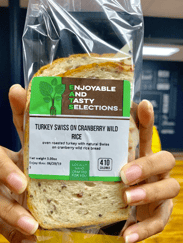 Even the bread we use is special. Our catering partner has developed some pretty killer pairings when it comes to the sandwiches we feature in micro markets. Turkey and Swiss is a classic, iconic sandwich offering that's hard to pass up regardless of how or where it's served. The version we have in our micro markets is layered thick on cranberry wild rice bread — that's right.
The sandwich itself is light and satisfying, but the combo of turkey and cranberry with the subtle nuttiness of the wild rice makes us think of comfort food—maybe even the holidays. That's something we love, even in summer! The oven-roasted turkey is juicy and the bread is the right amount of sturdy yet soft. Those enjoying the turkey Swiss on cranberry wild rice bread remarked how it didn't even need a condiment to make it complete (though we think a little dab of Dijon mustard wouldn't hurt).
Snack Pack Power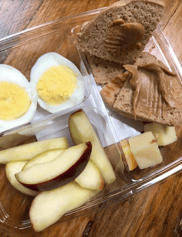 Arguably one of the most popular micro market offerings is our version of a snack box — the Power Pack. This totally portable snack kit offers clean, savory snack food hearty enough to replace a meal. A hard-cooked egg, whole-wheat bread, peanut butter, crispy apple slices, and a selection of cheese is exactly the right fuel to push you through an afternoon or remind you to take a break before tackling your next project. Speaking of ... we saw the unique ways people tackle the Power Pack, from a classic PB-on-apple-slice mash-up to an adventurous bite of egg, cheese, and wheat in the next mouthful.
BREAK ROOM BBQ
Name your favorite summer condiment. No, marshmallows don't count! Barbecue sauce tops the list for many, and conjures up visions of backyard grilling and cookouts. We decided to bring that outdoor flavor indoors with a chicken cheddar BBQ burger. The chicken burger itself is expertly seasoned with a tiny kick, and flash-grilled to perfection. Topped with Sweet Baby Ray's BBQ and a thick slice of aged cheddar, the tasty burger is served on a substantial Kaiser roll — golden and buttery.
The burger is perfectly delicious served chilled, but those who warmed it up were met with oozing cheese and thick, tangy BBQ sauce to complement the meltiness. It's a savory summer spin on an American classic made even more convenient in Bernick's micro markets.
Savory Snack + Cult Favorite
New to our micro markets are five-ounce serving size bags of Dot's Homestyle Pretzels. Savory and salty, these pair nicely alongside any sandwich, and the resealable bag makes it easy to shake out just a few and stash the rest for snack time. That said, we've never met a bag of Dot's we could leave alone until every last pretzel was claimed!
The Bernick's Micro Market Experience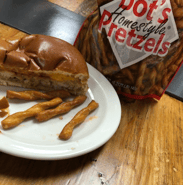 Our dedication to fresh, local, and convenient food is a year-round initiative of ours. Our micro market and vending teams always have a pulse on what our customers and consumers are seeking out in terms of on-site, accessible food that's also affordable and delicious.
Looking for additional ways to give employees, residents, or guests a better dining experience when they're away from home? Our team might be able to lend a hand. Let us know how we can help bring a better distribution solution to your company or building.