Anyone in business (or life in general) can say they're inundated with hundreds of decisions every single day. What time to set the alarm clock. Which route to take on the way to work. Where to park. What tasks to delegate, which tasks to handle individually.
And what to eat for lunch.
The list of decisions just gets longer and longer each day. At work especially, decision-making is often a step-by-step process that involves other people, research, strategy, and implementation. Sound familiar? If that's how it looks where you are and you're considering how to implement a micro market vending solution in your office, building, or campus, here are the steps you can take to make it happen.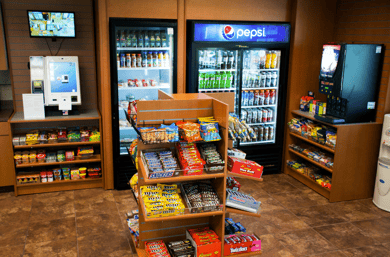 1. Take Stock of Your Current Vending Offerings
What are you currently offering the people connected to your building or site? Do you have a current vending model in place? It is outdated or simply not enough anymore for your growing team? Understanding what's in place and how it can be improved or expanded is a necessary first step in implementing a micro market.
2. Ask for Input and Feedback from Key Players
In this instance, key players = the people who will benefit most from a micro market. It's not uncommon for decisions to be made at an executive or advisory level with the expectation that they'll trickle down for adoption - only to be met with confusion or lack of acceptance. Ask your tenants, employees, or guests about their thoughts on a micro market. Is there early buy-in for its implementation — meaning, will they actually use it and look forward to its presence? What types of food and beverage do people want? Ask the right questions and generate the excitement and hype.
3. Choose a Micro Market Supplier
The key to any successful business relationship is working with people or brands you trust. When scouting potential micro market options, keep in mind that particular vending model comes with ongoing support and management (as it should!). There's more to the transaction than simply choosing a company to install it, drop off inventory, and opening it up for use. Look beyond the products, equipment, and tangible pieces of the micro market to customer service philosophies and business standards. Is the distributor trustworthy? Are they experts? How do they measure success? How do they handle issues or concerns? Can anyone else outside their business speak on their behalf? Oh, and know this: there doesn't have to be any cost to your organization when you choose a micro market - do your research; you have options here.
4. Pull the Trigger
Once your company has decided on implementing a micro market, and chosen a supplier. The next step, if you chose to select Bernick's, is to start the process with a site visit from a Bernick's Micro Market Specialist. This step will involve conversations over the layout, size, and location within your building or campus. You'll discuss the requirements on your behalf — location, electrical access, and internet access. After the planning is complete, you'll review the featured food and beverage offerings available, and a brief restocking plan; take comfort in knowing your Bernick's rep will handle all those aspects ongoing ... meaning no more decisions for you — or your company's management team!
5. Reap the Rewards
When you decide to install a micro market in your place of business, you're making an impact you might not even realize right away. The people the vending solution benefits the most are those key players mentioned in the second step. You're offering easy, affordable access to healthy, trendy, and satisfying food and beverages in direct proximity to where people spend the majority of their days. You're solving the problem of time management and decision-making when it comes to where to source coffee, water, breakfast, lunch, snacks, and more on their behalf. And lastly, and most sweetly, you're proving to the people around you that you're invested in their happiness and success, day in and day out.
Still not sure if a Micro market is right for your company?
We know big decisions take time. In the past, we've helped a number of area businesses implement micro markets. We continue to spread awareness and the satisfaction of our customers. We are confident your business will love having a micro market. To help guide your decision, here is a testimony from one of our satisfied area clients.
1. Satisfaction and Productivity are Linked
If employees don't take the time to properly refuel, and replenish themselves with necessary nutrition, it can be detrimental to productivity. Workdays are unpredictable, meetings run late, deadlines are changed, and late nights in the office occur. The micro market is a fast solution to a nutritious meal or snack. The micro market is stocked with fresh goodness including handmade wraps, sandwiches, salads, fruit, yogurt, meat and cheese, and more. Beverages range from soda to water, iced tea, coffee, energy drinks, and fresh juices. Bernick's works with your employees to feature the food and beverage items and brands your employees want, based off employee feedback or requests.
2. A Cost-Free Solution
A Bernick's micro market won't affect your company's budget. The installation and maintenance of a Bernick's micro markets come at no cost to the company or building installing one. Space, dedicated internet, and electrical outlets are the only requirements. Restocking, inventory, delivery, and service are all handled by Bernick's, making it an effortless asset to your company.
3. The Right Fit
A micro market is a positive, easy way to promote culture and give employees something else to appreciate and be grateful for, 40+ hours a week. And, a micro market is more than a place to secure a sandwich or hummus and pretzels over noon; it's an opportunity for management to use it to their advantage. Want to recognize an employee for outstanding effort? Load $20 onto their account. Forget that it's a work anniversary or employee birthday? The micro market has you covered, right where you stand.
Pointing out these obvious plusses in getting a micro market where you work should be pretty easy. If you need more, we have plenty for you here.