If you have been working at your current job for a while, you probably have a pulse on what your building or company needs in terms of the people who work or visit there each day. Establishing a reliable source of food and beverage options is an important element. That's where Bernick's comes in. Our vending machine process is pretty simple, but we take a few steps you might not expect in getting you what you want.
The Process of Vending
Vending machines are a quick and easy way to get a snack or beverage that will relieve hunger pains and quench your thirst. Because of their convenience and easy use, they are found in most major businesses or restaurants and even appear near the doors of many small stores. Although using a vending machine is quite simple, maintaining and stocking it is an intricate and detailed task. When you partner with a distributor that specializes in vending machines and has experts on staff, however, this task becomes seamless.
You've seen a lot of vending machines in your life, and you know from experience one of the main advantages of a vending machine is that it provides a large variety of products in a single dispenser. This does come at a cost. Namely, someone has to stock all of those products, which is a multi-step process.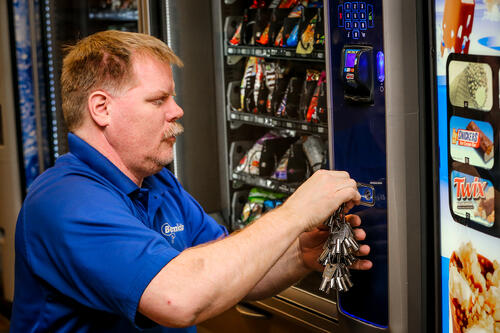 First, vending machine suppliers need to obtain all the various products from each of the unique companies that sell them. And once all of these diverse products have been purchased, they need to be organized and sorted.
The next step of the process involves a Bernick's Vending Account Rep (VAR) taking physical inventory of the items in the machine and determining; top sellers, slow sellers, and new item options for the machine. After an order is collected, it is submitted to the central warehouse in Waite Park where it is picked and packed to be delivered the next time the VAR visits the account (within the next week or two). Once all of this takes place, we begin our partnership with you and provide you an inside look at our unique vending machine placement service.

The Initial Meet and Greet
Remember, Bernick's doesn't sell to you; we partner with you. There is a difference. We meet for the first time to gauge that true fit - which might sound cliché, but in our business, is so true. Together, we want to ensure that we can work toward the same goal: bringing great brands of food and beverage to the consumer. We'll discuss your company or building as a whole; determine who you wish to serve – your employees, your customers, or both – to determine the amount of volume you will go through.
We'll consider space on site and review any concerns you have with foot traffic, security, and access. Vending machines are emblazoned with bright Pepsi and Aquafina logos for a reason: to attract attention and engage with users. Vending machine placement is a large part of our process. We'll also discuss vending machine placement fees and how you can easily afford our service.
The Wishlist Discussion
We always ask our vending machine partners what their "wish list" is for their company or building's vending options. Knowing what their ultimate goal for vending is, compared to what their volume looks like helps us establish the plan. Candy/snack machines might not make sense for an office of 20 people, while a traditional soda vending machine does. The same goes for the glass front vending machines that can feature other beverages, like Naked juice and Pure Leaf iced tea.
Location of the physical building also is taken into consideration when selecting which vending options make sense. If there is a convenience store adjacent, you might not need to carry candy or snacks in your machines. However, if that convenience store is across a busy road or a few blocks away, offering food options on site might be great. It will decrease the likelihood of your employees leaving grounds to grab something to eat – offering options right where they work, is a great perk not to be overlooked.
The Official Start
Once we've agreed together to move forward as vending partners, the rest is just details. We introduce you to your account manager, delivery driver, and backup driver – affectionately known as your "Bernick's Team." We prep your vending equipment and select an installation/go-live date. And perhaps the most fun detail is product selection. This goes back to the wish list discussion, except we execute instead of talk big picture. If your vending machines are intended for your employees, you might already have a pulse on the food and beverage options they desire.
If the machines are for building residents or customers, people you might not have a direct relationship with, you can count on your account manager to offer suggestions on brands and products that typically are well received in vending machines. We'll take note of any health initiatives you have (or even wish you had) and make sure we offer plenty of healthier options, too.
Advantages of Teaming with a Great Vending Partner
There are many advantages to teaming with a great vending partner like Bernick's to supply all of your vending machine placements.
Save Time:

If you tried to stock your vending machine on your own, you would need contracts with numerous companies and would constantly need to order new supplies from those companies. By partnering with a great vending machine company, you only need to fill out one order form. Neither you nor your employees need to spend time stocking the machine.

Automatic Restocking:

You receive automatic restocking of your vending machine when it runs low.

Bernick's level of experience

with vending trends means that your machines will be restocked so that you never run out of any individual product.

Maintenance & Repairs:

As part of the service you receive from a vending partner, the vending machines in your business will receive repairs if they malfunction or break down.

Expert Consultation:

Bernick's doesn't just partner with you, but with hundreds of businesses in your field and area. This means you will be provided with advice, free of charge, on what vending items are

likely to sell best

for your business, in your area, during a specific time of year. This increases consumer satisfaction.
Full of Surprises
There are plenty of vending machine companies in the world, so you might ask yourself, why Bernick's vending machine placement service? The answer lies in the quality of our service. Bernick's prioritizes quality in the following ways:
An order accuracy of 99.92%

638 unique items including batteries, hair products, and coffee

All employees are cross-trained in all duties to improve efficiency for clients

Nearly 1,000 units are picked from the warehouse per hour

Over 450 orders are serviced per day

Bernick's is constantly working to increase the variety of products available to stock in vending machines
In simplest terms, this means Bernick's puts you - the customer - first in every way. Bernick's provides unique options for vending and completes all orders as quickly, and accurately, as possible. We pride ourselves on being the innovative service leaders of our industry, and can't wait to add you to our family of partners.