Vending machines are a quick, easy way to get a snack or beverage that will relieve hunger pains and quench your thirst. Because of their convenience and easy use, they are found in most major businesses or restaurants and even appear near the doors of many small stores. Although using a vending machine is quite simple, maintaining and stocking it is an intricate and detailed task. When you partner with a distributor that specializes in vending machines and has experts on staff, however, this task becomes seamless.

The Process of Vending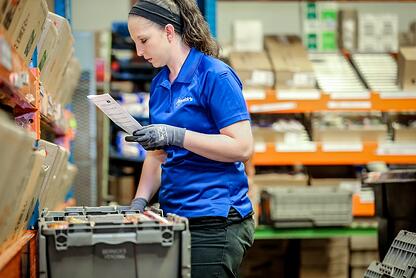 You've seen a lot of vending machines in your life, and you know from experience one of the main advantages of a vending machine is that it provides a large variety of products in a single dispenser. This does come at a cost. Namely, someone has to stock all of those products, which is a multi-step process.
First, vending machine suppliers need to obtain all the various products from each of the unique companies that sell them. And once all of these diverse products have been purchased, they need to be organized and sorted.
The next step of the process involves a Bernick's Vending Account Rep (VAR) taking physical inventory of the items in the machine and determining; top sellers, slow sellers, and new item options for the machine. After an order is collected, it is submitted to the central warehouse in Waite Park where it is picked and packed to be delivered the next time the MA visits the account (within the next week or two).


Advantages of Teaming with a Great Vending Partner
There are many advantages to teaming with a great vending partner like Bernick's to supply all of your vending needs.
Save Time:

If you tried to stock your vending machine on your own, you would need contracts with numerous companies and would constantly need to order new supplies from those companies. By partnering with a great vending machine company, you only need to fill out one order form. Neither you nor your employees need to spend time stocking the machine.

Automatic Restocking:

You receive automatic restocking of your vending machine when it runs low.

Bernick's level of experience

with vending trends means that your machines will be restocked so that you never run out of any individual product.

Maintenance & Repairs:

As part of the service you receive from a vending partner, the vending machines in your business will receive repairs if they malfunction or break down.

Expert Consultation:

Bernick's doesn't just partner with you, but with hundreds of businesses in your field and area. This means you will be provided with advice, free of charge, on what vending items are

likely to sell best

for your business, in your area, during a specific time of year. This increases consumer satisfaction.


Why Bernick's?
There are plenty of vending machine companies in the world, so you might ask yourself, why Bernick's? The answer is quality of service. Bernick's prioritizes quality in the following ways:
An order accuracy of 99.92 percent

638 unique items including batteries, hair products, and coffee

All employees are cross-trained in all duties to improve efficiency for clients

Nearly 1,000 units are picked from the warehouse per hour

Over 450 orders are serviced per day

Bernick's is constantly working to increase the variety of products available to stock in vending machines
In the simplest terms, what this all means is that Bernick's puts you - the customer - first in every way. Bernick's provides unique options for vending and completes all orders as quickly, and accurately, as possible.