Vending machines are centuries-old and continue to evolve to best serve consumers. One trend that is changing the vending machine industry is convenient health food. People who wish to eat healthier are now finding the healthy options they want from vending machines across the country. Below are some facts for these healthy alternatives.
HEALTH-DRIVEN CHOICES AREN'T A FAD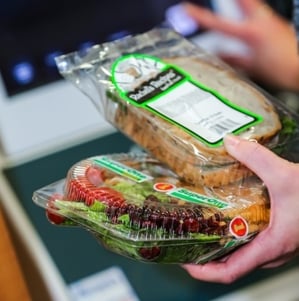 The food and beverage industry is no stranger to fads and changing trends – for example, for the first time in history, water has surpassed soda as the largest beverage category by volume in the U.S There's also a nationwide trend of increased awareness of eating and drinking healthy and demand for accountability from the makers and suppliers of food. Consumers want preservative-free, no artificial sweeteners, no antibiotics, and natural "clean and real" as appealing label characteristics.
We know a thing or two about the evolution of consumer habits and demographics. But the focus on health isn't going anywhere; it's here to stay. Knowing that, we took the initiative to take a look at what we offered particularly in our vending and micro markets line that appealed to healthy choices. People can spend up to 10 hours a day away from home or on the run between work, school, hobbies, and other obligations. We studied how people were consuming food on the go, and what convenience they sought out during busy days.
The vending machine of today has far evolved past soda, candy bars, and chips. New innovations in equipment have allowed for coolers and cold systems to feature perishable, fresh foods. Now, busy people can rely on the convenience and access of vending and micro markets for actual meal items including fresh fruits and vegetables, sandwiches, salads, combo snack platters, and more. We entered that market over 10 years ago, but recently overhauled our line of fresh food to meet the changing needs of today's health-conscious, busy consumer.
Mandated Munching
Schools have USDA regulations on vending machines that regulate fat, salt, sugar, and caloric content.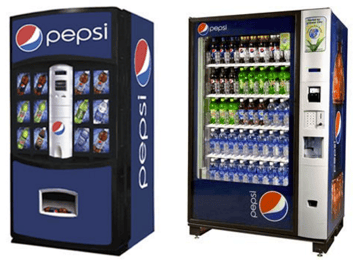 Healthy vending refers to the policies that increase the number of healthy choices in vending locations. For beverages, this means increasing offerings of water, sparkling water, sugar-free or diet soft drinks, unsweetened coffee and teas, milk, dairy-free milk, 100 percent fruit and vegetable juices. For food items, that's offering snacks with less than 200 calories, low-sodium, and lowered saturated fat and sugars.
Food is important to fuel the body — there's no question about that. Students need this high level of fuel for their bodies to get through the long days of lectures, tests, and after-school activities — especially in this crucial growth time of their lives.
Healthy habits can be taught through snacks to replace sugary alternatives. A vending machine at school with healthy options, such as vegetables, can help kids learn good habits while still maintaining the fuel they need between meals.
WHERE THERE ARE PEOPLE, THERE MUST BE FOOD
Shaking off its "junk food" label, vending machines have become a lot smarter. Americans eat and drink about one-third of their calories away from home. A large quantity of that consumption is from vending machines, which annually tops more than $7 billion in sales. America is becoming more health conscious, and people are demanding healthy vending machine snacks more often. By providing healthier food and beverages, vending machines become a source of nutrition, rather than a last-ditch effort to manage cravings.
The U.S. Food and Drug Administration (FDA) finalized a rule that requires owners or operators of 20 or more vending machines to provide calorie declarations for food products available for purchase. The sales of healthier snacks outpace traditional snack foods by three times.
EATS —
our solution to healthy vending
EATS is an acronym-based brand that translates to Enjoyable and Tasty Selections. With a new look and feel of the packaging, we also revamped the contents of each selection. We continued our collaboration with our local culinary partner who prepares our menu items fresh (and local!) five days a week. The EATS brand encompasses a new set of values as well, which include:
Quality

Better for You

Local

Artisan

Value
Our goal with the new brand was to continue to deliver delicious food to consumers while increasing the overall integrity of the products we offer. We feel good about the ingredients and preparation that match these expectations. EATS products are exclusive to Bernick's, but its access isn't limited to certain areas or companies. Anyplace where our vending machines or micro markets are present is where you can find our fresh food brand. We continue to bring fresh takes on favorites to ensure the health and happiness of customers and their employees, as a community health-focused company.
Yes, Healthy vending machines do exist
At Bernick's, we love the communities we serve. Naturally, we want to keep them healthy and strong. We're always basing our decisions on how people will be impacted. Our innovation and commitment to healthy vending can impact you and the people you serve. Did you know? Our traditional vending machines and micro markets, which are self-checkout convenience store style kiosks, are stocked with healthy alternatives with less than:
200 calories

200mg sodium

10% of calories in saturated fat

35% of calories or weight in total sugars
Some of our vending machines offer perishable meal-type items that differ from the standard packaged snack fare. Items like fruit cups, fresh vegetables, wraps, and yogurt or string cheese. An article from BodyBuilding.com lists the seven healthiest vending machine snacks to look for are:
Nuts — contain healthy fats and fiber

Granola bars — usually under 200 calories and made with whole grains

Popcorn — filling, fibrous, and contain antioxidants

Sunflower kernels — a crunch to satisfy that craving, and high in vitamin E

Fig Newtons — made with real fruit and whole grains

Pretzels — low in fat and don't contain sugar

Crackers — plain varieties are made with whole wheat and also have fiber
Healthy workspaces, schools, and communities
Bernick's has a proud tradition of supporting the communities in which we serve by supporting organizations that reflect our family's core values while providing leadership in responding to emerging community needs. Healthy options for vending and micro markets are just a fraction of the causes we support to keep people their best versions of themselves. The Bernick Family Foundation supports two key areas — youth and education and health and fitness. Both areas center activities on educating, promoting, and sustaining healthy people in healthy communities.
We'd love to partner with you to support this ongoing mission, one vending machine and micro market at a time!