wellVending machines and micro markets are both convenient self-service retail solutions, but they have distinct differences in terms of offerings, space requirements, customization, and user experience.
Let's Define Micro Markets First
A Micro Market is essentially a miniature convenience store that runs inside your business. Like a convenience store, a portion of your break room or cafeteria is transformed into stations that offer a variety of easily consumed food and drinks. Additionally, an automated self-checkout kiosk is installed as well. This allows your employees or guests to easily select their food or drinks and pay for it without the need for any assistance. Easy and efficient; what else could you ask for?
These convenient, technologically advanced stations have the ability to take business vending options to a whole new level. Below are six benefits of a micro market.
Micro Markets offer all of the benefits of traditional vending machines. They provide easily consumable snacks and meals, at a reasonable cost, in a convenient way, which don't require a human attendant for purchasing. These aren't the only Micro Market benefits, though. Micro Markets can greatly improve on traditional vending machines in a number of ways.


How Micro Markets Are Different from Regular Stores
Micro markets and regular stores (brick-and-mortar retail stores) are distinct in several ways, from their size and setup to their offerings and target audiences. Here's a comparison of how micro markets differ from regular stores:
Self-Serve
Access: Micro markets are usually accessible only to individuals within a specific location, such as employees of a company. They are not open to the general public.
Hours of Operation: Micro markets may have limited hours of operation, often aligned with the operating hours of the location where they are installed (e.g., office hours).


Convenience
Convenience: Micro markets focus on convenience, providing quick and easy access to a variety of products for individuals on the go.

Micro markets are smaller than traditional stores and are typically set up in the workplace or communal areas. They resemble a small convenience store with open shelving, coolers, and self-checkout kiosks.

Location: Micro markets are often found in workplaces, corporate offices, universities, hospitals, and other settings where convenience is important for employees or customers.




Options
Inventory: Micro markets offer a curated selection of products, including fresh foods, beverages, snacks, and convenience items. While they offer variety, their inventory is typically more limited compared to regular stores.
Payment Options: Micro markets offer various payment options, including cashless transactions, mobile apps, and loyalty programs, providing convenience for users.
Customization: Micro markets can be customized to cater to the preferences and needs of the specific location and its users. They can offer products that align with dietary preferences and cultural considerations.


What's the Difference from Regular Vending Machines?
Vending machines typically offer a limited selection of pre-packaged snacks, beverages, and sometimes simple food items. They are often known for providing quick and easy access to grab-and-go items. And, they are relatively compact and can fit into smaller spaces, making them suitable for locations with limited room. Vending machines provide quick and easy access to products with a simple selection process and immediate purchase. They usually accept cash, coins, and increasingly, cashless payment methods like credit/debit cards and mobile wallets. While vending machines have limited space, they can be customized to offer specific product categories, such as snacks, beverages, or healthy options. Availability? Vending machines are available 24/7, allowing consumers to make purchases at any time, day or night.
Inversely, micro markets offer a wider variety of products, including fresh foods, beverages, snacks, and sometimes even hot meals. They provide a more comprehensive shopping experience. Micro markets are larger setups resembling a small convenience store, requiring more space. They include open shelving, coolers, and sometimes even heated food stations. Micro markets offer a more leisurely shopping experience, allowing customers to browse, select items, and pay at self-checkout kiosks. They often offer more payment options, including cashless methods, employee PINs, mobile apps, and loyalty programs for personalized discounts. Micro markets rank as highly customized to suit the needs and preferences of the location. They can offer a wide variety of products, catering to different dietary preferences.
Micro markets require more space and are typically set up in workplaces, corporate offices, or larger communal areas, encouraging more interaction and engagement with products due to their layout and open shelving. Consumers enjoy an almost experiential-like atmosphere at micro markets as they can read labels, examine items, and make informed choices. As far as access goes, micro markets may have restricted hours of operation based on the location's working hours, unlike vending machines that are available 24/7.
Vending machines are well-suited for providing quick access to a limited range of snacks and beverages, while micro markets offer a broader and more customizable shopping experience, including fresh food options. The choice between the two depends on factors like available space, the desired variety of offerings, and the user experience you want to provide.


Are Micro Markets on the Rise?
Over the course of the past decade, the expansion of micro market installation across the U.S. has more than doubled, representing a $7 billion-dollar industry. There are by estimate, 30,000 micro markets installed across the United States. Due to their endless benefits, micro markets have gained popularity in workplaces, corporate offices, higher education, healthcare, and other settings where convenient and customizable on-site food and beverage options are desired. The growth of the micro market industry has been driven by factors such as advancements in self-service technology, increased focus on employee well-being, and the desire to provide diverse and healthier snack and meal options. 2020's pandemic also forced the hand of innovation and safety, and installations reached a fever pitch as businesses looked for ways to meet the needs of consumers and employees as mandates changed access and interaction. It's forecasted that another 30,000 micro markets will be installed nationally in the next three to five years.


What are the Benefits of Micro Markets?
Cost-Effective
When businesses choose to partner with Bernick's, they receive an investment-free micro market. We install and maintain micro markets at no cost to you. This includes repairs, delivery, service improvements, and security cameras. It's all-in-one. Micro markets are incredibly easy to install and run. No purchasing, no leasing – just a great option for employees and staff.


Innovation & Ease
Because micro markets are designed to fit most facilities and workspaces, they are completely customizable. After micro market patrons have made their selections, they use a self-checkout kiosk to pay. This allows users to purchase multiple items at once, and be more efficient overall. Micro markets offer quick, easy access to the items they need throughout the day when it is most convenient for them.


Healthy Choices
Many of these benefits point to an obvious plus: consumer satisfaction. When individuals have a wider variety of products to choose from, convenient payment options, and a system that allows them to be efficient, how can they be dissatisfied? Micro markets grant consumers more choices and can show your investment in their overall well-being. Keeping staff and customers happy is vital to productivity and a positive work environment.


High-Tech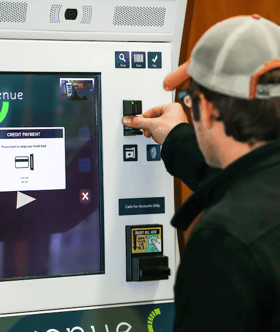 Smart technology means the micro market "speaks" to the account team at Bernick's. There's no external reporting or monitoring you have to do on your end.
Advanced technology integrated within micro market systems will carefully trace sales and help to monitor inventory. The inventory system helps customize products to specific users, improving customer satisfaction. Micro market inventory technology also takes notes of when more products need to be restocked, making the integration of a micro market seamless and hassle-free.


Where We Can Install or Create a Micro Market
We always turn to our micro market customers as the experts on their particular workplace or building and the people who are part of it—no matter the industry or sector you serve, you know your landscape best. At Bernick's, we have a wide variety of options, but our top priority is customizing the perfect selection to fit your company. We'll ask what hours of operation are, the types of people who comprise your workforce, and what feedback (if any) you've had from your team about onsite food options. From there, we'll establish a general idea of what types of food and drinks work best using our data and experience as the influence. Typical settings where micro markets thrive include:
Hospitality—hotels, conference centers, event spaces
Higher Ed.—think campuses, education-based companies, and schools
Healthcare—senior living facilities, clinics and hospitals, and health and wellness-based businesses
Corporate—office spaces, employee break rooms, and manufacturing
The key to a successful micro market is convenience and variety. Sticking to a particular selection of items that are too narrow to appeal to a lot of people isn't a great idea. For example, if your workplace is generally very health conscious, not offering a single candy or snack item isn't recommended. What happens when the need for chocolate or other comfort strikes? It always does, maybe just less frequently. A good micro market offers a little bit of everything—no matter what type of business you represent.


Bernick's Have the Right Micro Market Solutions
You may have decided that installing a micro market is the right move for you. So why choose us to handle the installation? To put it simply, we're the best service you'll find. We're in our 107th year in business at Bernick's. We've been doing this long enough to know it's not just about the beverages. There's a difference here. Our culture. Our product. Our customers. Now that you know what the installation process will look like, we encourage you to consider our service for these three unique differences. Our company was founded around principles that kept people at the center of our mission, vision, and values.
We don't sell to you, we partner with you. When you take away the pressure and demands of meeting a quota, the byproduct is meeting expectations: yours. Every customer interaction is a positive experience with flexible, proactive, can-do attitudes. We genuinely become invested in your goals, successes, and people. It's hard not to develop that relationship and establish rapport when we feel like a part of it—the customer's business.
Our micro markets are no different. Because we're such believers in what they can offer to you and your employees, we install them at no charge. There's no catch. We ask for space, internet, and electricity and we do all the rest. We manage your inventory, perform maintenance, and monitor security systems to make sure that when we tell you we'll give you unrivaled service, we mean it.