Did you know that vending machines are the most commonly reported source of onsite food? It's true. Nearly two-thirds of large employers have vending options available, while about a quarter of smaller employers do. Keeping your employees and guests happy and fed is very important.
Imagine, for a minute, choosing to replace the vending machines in your building with a mini convenience store. Instead of paying for each item individually, customers would choose all the items they want to purchase and pay for it all at once at an easy to use self-checkout station. This is life with micro markets.
What is a Micro Market?
What is a micro market? Let's back up in case you need a refresher or intro into the world of micro markets.
A Micro Market is essentially a miniature convenience store that runs inside your business. Like a convenience store, a portion of your break room or cafeteria is transformed into stations that offer a variety of easily consumed food and drinks. Additionally, an automated self-checkout kiosk is installed as well. This allows your employees or guests to easily select their food or drinks and pay for it without the need for any assistance. Easy and efficient; what else could you ask for?
These convenient, technologically advanced stations have the ability to take business vending options to a whole new level. Below are six benefits of a micro market.
Micro Markets offer all of the benefits of traditional vending machines. They provide easily consumable snacks and meals, at a reasonable cost, in a convenient way, which don't require a human attendant for purchasing. These aren't the only Micro Market benefits, though. Micro Markets greatly improve on traditional vending machines in a number of ways.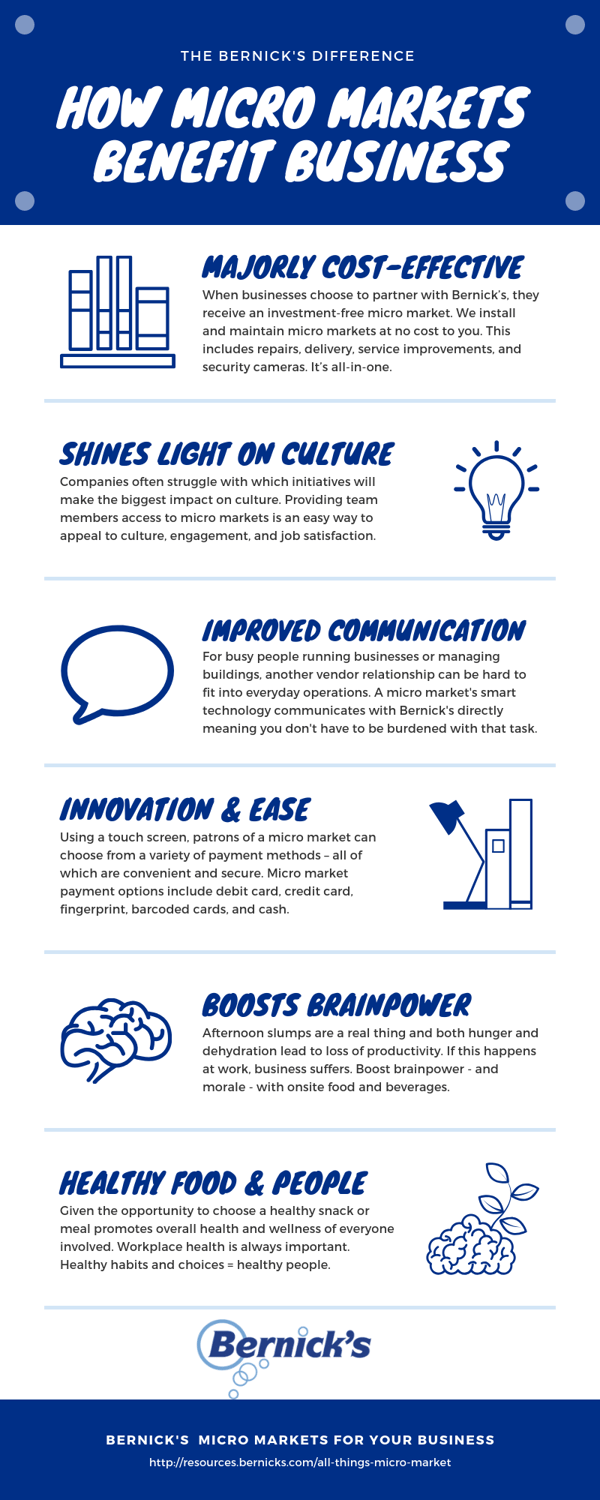 The Biggest Benefits of Micro Markets
1. Cost-Effective
When businesses choose to partner with Bernick's, they receive an investment-free micro market. We install and maintain micro markets at no cost to you. This includes repairs, delivery, service improvements, and security cameras. It's all-in-one. Micro markets are incredibly easy to install and run. No purchasing, no leasing – just a great option for employees and staff.
With a micro market, you can choose from hundreds of different products including snacks, beverages, fresh foods, and more. Because micro market models are not limited by design or layout, their options for selection are vast. Perhaps one of the greatest benefits of micro markets is their ability to offer fresh, healthier items like a wider variety of sandwiches and salads. The ordering is handled by a vending professional making it simple, plus delivery for all orders is free of charge.
2. Culture-Focused
Bernick's offers over 300 different products. This selection truly creates the feel of a miniature convenience store.
As part of the free installation, Bernick's will create a custom designed market that best fits the space available and the tastes of your employees. Using a touchscreen, patrons of a micro market can choose from a variety of payment methods – all of which are convenient and secure. Micro market payment options include debit card, credit card, fingerprint, barcoded cards, and cash. This is really all about the people you serve in your building, office, or campus.
3. Communication Generator
Smart technology means the micro market "speaks" to the account team at Bernick's. There's no external reporting or monitoring you have to do on your end.
Advanced technology integrated within micro market systems will carefully trace sales and help to monitor inventory. The inventory system helps customize products to specific users, improving customer satisfaction. Micro market inventory technology also takes notes of when more products need to be restocked, making the integration of a micro market seamless and hassle-free.
4. Innovation & Ease
Because micro markets are designed to fit most facilities and workspaces, they are completely customizable. After micro market patrons have made their selections, they use a self-checkout kiosk to pay. This allows users to purchase multiple items at once, and be more efficient overall. Micro markets offer quick, easy access to the items they need throughout the day when it is most convenient for them.
Micro markets offer convenience, flexibility, and versatile fixtures to optimize space, arrangement, and branding. Issues that arise? Not yours to own! Bernick's offers 24-hour support for the micro market, seven days a week. If something breaks or malfunctions, it will be repaired in a timely manner. As upgrades become available, or when the demand in your MicroMarket increases, Bernick's is constantly adding or improving equipment in your micro market.
5. Brain Boost
Access to hydration, caffeine, and healthy snacks all improve brainpower, a key component to successful days for people. One of the biggest benefits a micro market has to offer is proper nutrition and the effect it has on people. And because micro markets vend both "traditional" food and beverage items plus healthy items, there are plenty of options to choose from while catering to individual interpretations of "healthy."
6. Healthy Food = Healthy People
Many of these benefits point to an obvious plus: consumer satisfaction. When individuals have a wider variety of products to choose from, convenient payment options, and a system that allows them to be efficient, how can they be dissatisfied? Micro markets grant consumers more choices and can show your investment in their overall well being. Keeping staff and customers happy is vital to productivity and a positive work environment.


Micro market benefits are vast for this growing trend in the food and vending industries. They are able to give users a convenience store experience without ever leaving the premises. Micro markets bring a new level of service, selection, and satisfaction to your workplace.