Micro market kiosks are becoming a popular option in the workplace. 10 years ago we would have been doubtful about them, but now with the advances in reliable technology and the changes in consumer behavior, we're proud to stand behind them as one of the best solutions to implement in your business.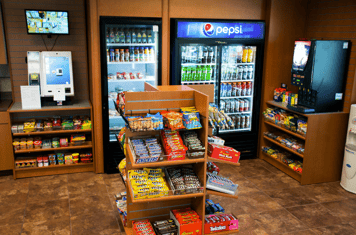 We're not plotting the downfall of office vending machines, we think those also have a time and place. We simply implore you to consider the benefits of adding micro market vending to enrich the lives of your employees.
The last few years have seen a huge leap in vending services for offices around the country. We've seen the break room cafe, total break room services, and (of course) the micro market kiosk.
People love food, and if they love anything more it's good food. Utilizing this fact, it's easy to use micro market vending to keep your employees happy and well-fed. 83 percent of consumers snack daily. For most businesses, food can be a point of improvement.
Do us a favor. Take a few seconds to look around your office. See any healthy food options in the vending machines or fresh foods lying around for workers to enjoy? Does your break room have total break room services? Is there a break room cafe? There's a large chance that there aren't any of these things and that the only food you can find is a bag of chips in your vending machine.
A micro market kiosk solves a lot of problems, but we've realized that some of the most important facts about micro markets have gone unnoticed. They keep your workers fed, that's definitely important; they also have a slew of benefits that can propel your business's food distribution to new heights. Strap in because we're about to cover a few, with a video that gives a quick introduction to what a micro market is, and three reasons why a micro market could be a perfect fit for your business:

1. You Value Employee Satisfaction
Time and time again we hear about how pleased users of micro markets are. They love the options, the prices, the ease of use, and the access. If you're looking for a way to ramp up employee satisfaction and show your commitment to your team, a micro market is your answer.
Micro markets allow your employees to purchase items at their will in a convenience store-like setting without ever having to leave your building. Different than traditional vending machines, micro markets allow individuals to pick up, feel, and examine each item before they purchase it. Consumers snack daily, but 91 percent of them consider nutritional content before buying and 88 percent are willing to pay more for healthier options. People in your building want fresh and local ingredients in their snacks. A micro market is the solution to this request, giving you the opportunity to supply your workplace with high-quality, fresh, local products that satisfy your company's cravings.
Micro markets are conducive to a different level of efficiency with the option for employees to purchase multiple items at once. On the topic of purchasing, users never have to worry about carrying cash or change with them. Many micro markets are set up with a thumbprint payment system, account numbers, and/or credit card. Payment is self-checkout style, which makes it fast and easy for your employees.
2. You Don't Want to Break the Budget
We love to see people get a little shaken up when we tell them the cost of installing a micro market kiosk: a lump sum of exactly $0. A micro market doesn't cost anything to install, we do it free of charge. Including delivery, restocking, repairs, service improvements, and security cameras for your micro market space. Who doesn't love free? That's a tough price to beat.
A micro market combines the best parts of traditional markets and technology. Have you ever ruthlessly shaken a vending machine because it didn't spit out your Skittles? We know the feeling, and we promise not to tell. Maintenance on office vending machines can be troublesome, especially if your equipment has been in use for a while. Offices hardly ever think of revamping food because so much is going on, but doing so can mean a world of difference for your workers.
3. A Sense of Community
Have you noticed food brings people together? If you're looking to bring your employees closer together, a micro market kiosk can do it. Turning your break room into a place of gathering is a great way to encourage employee interaction. Allow your employees to exchange ideas, grow, and get to know one another. Bernick's has committed to stocking micro markets with fresh, local items through EATS, an exclusive fresh food brand that's exclusive to Bernick's. Enjoy hand-crafted sandwiches, salads, and snacks from our local culinary partner.
We know people grab a soda and bag of chips and eat at their desks. By providing a sprawling, gorgeous micro market, you can give your employees a certain level of anticipation in their day. They'll grow to love their 10-minute breaks with fellow co-workers. Micro markets will be there to entice them, draw them in, and give them an experience to look forward to each and every day.
Long Story Short
Micro market vending can provide you with a zero-cost, zero-maintenance method for keeping your employees healthy and happy. At Bernick's, we do this by outfitting our micro markets with fresh, local, and healthy ingredients that consumers want and are willing to pay for. There's absolutely no cost to the business, we find a space that works and we start making people happy. At the end of the day, workers get a solution to their snacking needs that brings them even closer together than your average vending solutions.
Get in touch with a micro market specialist today!