An Inside Look
For a lot of people, seeing is believing. Recently we've put a lot into sharing what makes our micro markets valuable, how they can help you improve employee morale, and how our micro markets are different. We thought it was time to put our money where our mouth is, and show you what goes into the making of a Bernick's micro market. That's what lead us to make a video showing the easy installation process. After you watch the video, be sure to read on for a breakdown of our process and why you should implement a micro market into your workplace.
No Assembly required
The best part about constructing a micro market is that you can be as involved as you want to be. Our team of experts will install your micro market with ease. You don't have to worry about holding anyone's hand or putting off work to supervise the installation. The only things we need to get started are our tools and a few good Bernick's employees. Customers often ask us what the process will look like for our partners. We've compiled a list of steps you'll be seeing while we set up your micro market. Here's what you can expect from the installation process.
What We Need From You
Our needs are quite basic. Show us where you envision your micro market going, and we'll either agree or make recommendations on your behalf. You'll want your micro market to be housed in a highly visible, high-traffic area that makes sense to the flow of your organization. Employee break room? A commons-type area that's the hub of your company's design?
We measure twice and cut once. Everything is custom fitted to your needs and the layout and flow of the micro market is tailored to make the most sense for your organization. You want your employees to be happy. We want you to be happy. We do it right. All we need is space, electricity, and dedicated internet access and we're set to install.

Micro Market Installation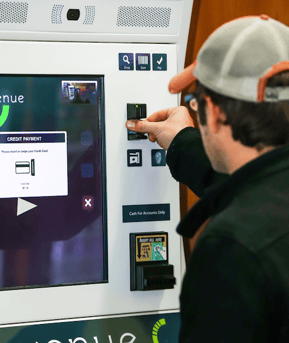 Your Bernick's micro market rep will work with you to determine your needs and wishlist ideas for your employees. After mutual consideration, we'll install the dry storage and shelving units, coolers, hot beverage stations, ice and fountain systems, kiosks for payment, and security.
We bring our team to do all the dirty work, and we do it based on the least amount of intrusion on your team's behalf. If that means 5am, we'll be there at 5am. We're dedicated, goal oriented, and have the commitment you need to get your micro market installed in a timely and orderly fashion.
The Good Part
We roll everything in, stock your shelves for employee consumption, and cut you loose to get back to your business. This step is the best. From here, we either work with your team to navigate your new micro market, or we empower you to handle the kickoff. Either way, you'll be equipped (as will your employees) with the knowledge and appreciation of what they now have access to: unlimited, convenient, and fresh healthy foods, snacks, beverages, and sundries.
And we don't just walk away. Your goals are as important to us as they are to you. Part of the micro market installation process is continual monitoring and customer satisfaction to ensure the right choices were made on your company's behalf. Like we said, this is the good part.
Highlighting the difference
You may have decided that installing a micro market is the right move for you. So why choose us to handle the installation. To put it simply, we're the best service you'll find. We're on the cusp of 100 years of business at Bernick's. We've been doing this long enough to know it's not just about the beverages. There's a difference here. Our culture. Our product. Our customers. Now that you know what the installation process will look like, we encourage you to consider our service for these three unique differences.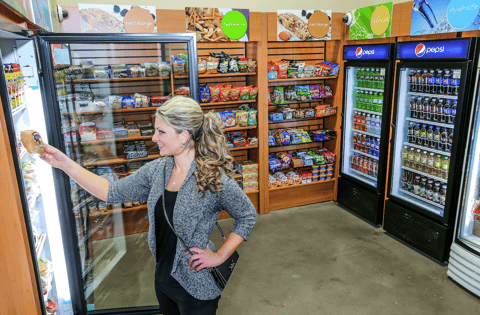 Premium Service
Our company was founded around principles that kept people at the center of our mission, vision, and values. We don't sell to you, we partner with you. When you take away the pressure and demands of meeting a quota, the byproduct is meeting expectations: yours. Every customer interaction is a positive experience with flexible, proactive, can-do attitudes. We genuinely become invested in your goals, successes, and people. It's hard not to develop that relationship and establish rapport when we feel like a part of it - the customer's business.
Our micro markets are no different. Because we're such believers in what they can offer to you and your employees, we install them at no charge. There's no catch. We ask for space, internet, and electricity and we do all the rest. We manage your inventory, perform maintenance, and monitor security systems to make sure that when we tell you we'll give you unrivaled service, we mean it.
Quality Portfolio
The best brands cannot create loyalty. It has to come organically, driven by people who promote the best brands. We can honestly say we have both. We proudly distribute some of the nation's very best brands, and the people who deliver those products are the nation's very best – not that we're biased. Our micro markets can provide nearly 400 products including snacks, beverages, fresh food, and sundries. We know you want your employees to have options and convenience.
Brands like Pepsi, Starbucks, Naked Juice, Fiji, Amp, Izze, Sabra, Frito Lay, Famous Amos, and Mars have loyal customer bases, and we're able to stock your micro market shelves with such products. And for those of you, like us, who are committed to keeping things local, micro markets can be stocked with fresh, seasonal produce as well. We pride ourselves in staying up on trends, and always look to bring bigger, better, and more to our customers all of the time.
Community Involvement
You might not expect community involvement to be a reason to partner with Bernick's on your micro market, but it's probably the most important reason. Healthy communities mean healthy companies and healthy companies mean healthy communities. It's a beautiful, endless system. We live here, and we work here too. If we can help you to make a difference within your company, boost your employees' morale, or impact the culture, we want to do it. Bernick's donates five percent of net income to the communities that we serve each year. We're lucky enough to be doing what we love, but also know we wouldn't be able to do so without the support and partnerships we have. Giving back is one way we acknowledge that.
The people of your workplace want to know that you care. They want to know that you'll go the extra mile for them. Don't take our word for it. A study recently showed that 80 percent of people say that feeling appreciated is important to their happiness at work, ahead of salary (58 percent) and feeling trusted (55 percent), but only 45 percent of employees actually feel appreciated by their company. Appreciating your workers makes them happier and more productive… it really is that simple. Let us help you show your appreciation with a micro market.